Mother of two girls thrown out of home for having cancer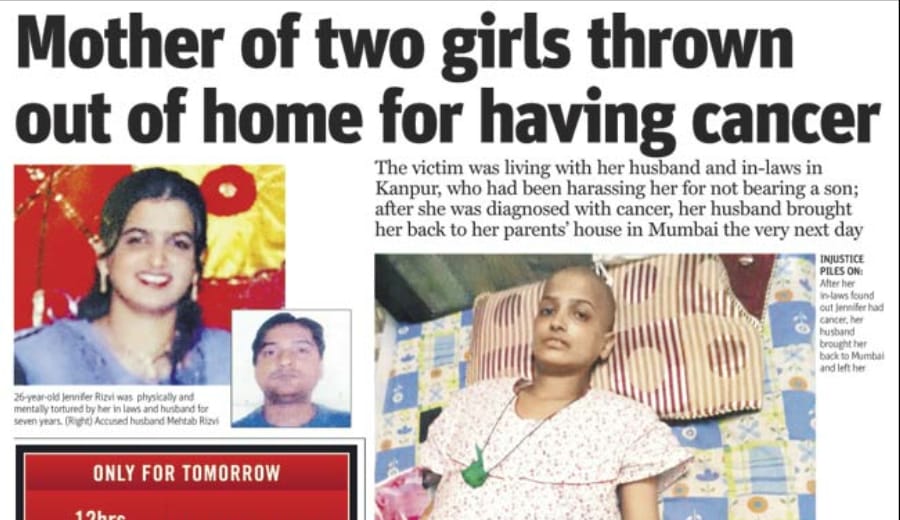 The victim was living with her husband and in-laws in Kanpur, who had been harassing her for not bearing a son; after she was diagnosed with cancer, her husband brought her back to her parents' house in Mumbai the very next day. Having given birth to two girls, 26-year-old Jennifer Rizvi was sent back to her parents' house in Mumbai, but not before she was physically and mentally tortured by her in laws and husband for seven years. The final straw for her in-laws was that she had been diagnosed with cancer.Jennifer, who married Mehtab Rizvi in 2007, is currently undergoing treatment at the Tata Hospital in Parel. 
After her wedding, the then 19-year-old Jennifer left her parents' house at Grant Road to live with her husband and in-laws in Kanpur, Uttar Pradesh. Jennifer's father, Iqbal, who is a shopkeeper, said, "A few months into the marriage, her husband started harassing her. She was given stale food to eat and was assaulted by her in-laws." Over the years, Jennifer gave birth to two daughters, who are currently five and two years old. Parvez, Jennifer's brother, recounts, "After the second baby, the torture escalated to another level. They wanted a son and made my sister's life hell." "Her in-laws called me and said, 'Tumhari ladki ko ladka paida karna nahi aata. Hume toh chand jaisa ladka chahiye.' ('Your daughter does not know how to bear a son. We want a boy.')," added her father. Last February, Jennifer detected a lump in her throat that was increasing in size and causing a lot of pain. When her in-laws finally took her to a doctor in June, they found out that the lump was cancerous, and the disease was spreading. The next day, Mehtab brought her and the girls to Mumbai to her parents' house and left her. She is currently undergoing chemotherapy. Jennifer's father said, "It is God who gives a boy or girl. My beautiful daughter has lost her spirit after she married that man. I look at her condition now and feel terrible. She has suffered so much these last seven years. She would not be given food, or given stale food and would be locked in a room and assaulted by her in-laws and husband. How can a husband just throw his wife out of the house to die?" "I will fight for my daughter till the very end. She is a fighter and we will do everything for her treatment and see to it that her in-laws and husband are brought to justice," he added. Jennifer's family have registered a case with DB Marg police against her husband and his parents under Sections 498 (enticing or taking away or detaining with criminal intent a married woman) and 406 (criminal breach of trust) of IPC.