Women Ranji Trophy winners to get more money; check out the prize money announced by BCCI for domestic tournaments
Jay Shah, secretary, Board for Control for Cricket in India tweeted an announcement on Sunday. This announcement covered the hike in the prize money for Indian cricket's domestic tournaments for men and women both. 
Shah tweeted, "I'm pleased to announce an increase in prize money for all @BCCI Domestic Tournaments. We will continue our efforts to invest in Domestic Cricket – which is the backbone of Indian Cricket. Ranji winners to get ₹5 crores (from 2 cr), Sr Women winners ₹50 lacs (from 6 lacs),".
There has also been an increase in the prize money runner ups will receive in all these competitions as reward. The runner up from Ranji Trophy will take home three crores which is three times the amount rewarded earlier, the other teams that play the semifinals will also be rewarded 50 lakhs each.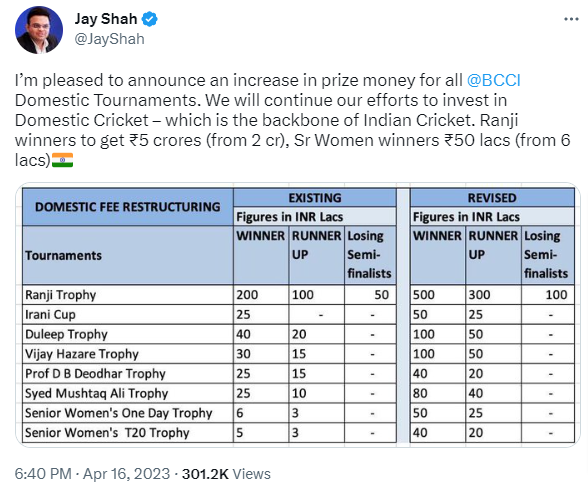 Senior Women's One Day Trophy runner ups will get 25 lakhs instead of the 3 lakhs that were given before. .
A while back, the BCCI has made an announcement concerning the Indian cricket's 2023-24 domestic season and had stated that it will kick-start with the prestigious Duleep Trophy tournament beginning on June 28. BCCI had added that the flagship Ranji Trophy will take place from January 5, next year (2024).
This announcement comes as more women cricket players are coming into the limelight with numerous tournaments and an increasing number of people are keen on seeing them play on a wider and bigger level.