"Just Imagine what would happen if your daughter was standing there"? – Anuradha Koirala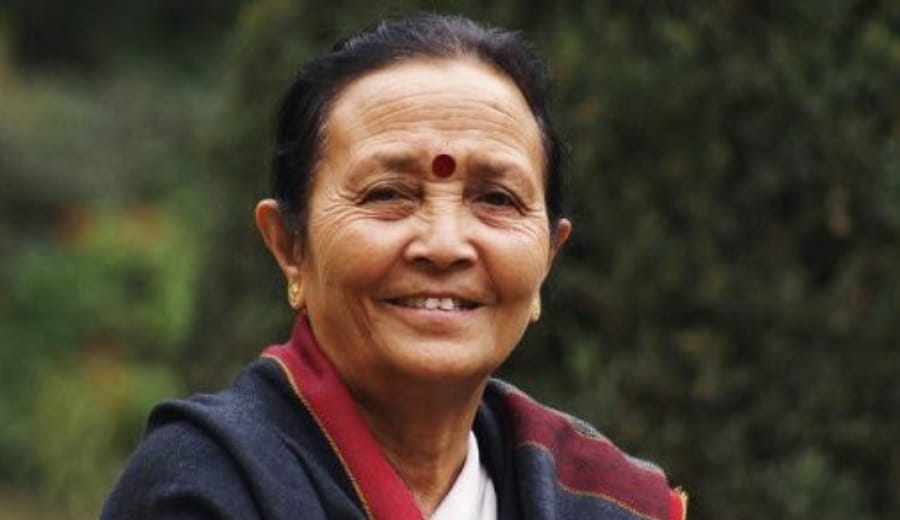 The dictionary defines a hero as a man of distinguished courage or ability but the word hero is no more a gender specific for we can proudly pronounce hero is a person who rises up at the time of adversity to showcase courage for the common cause of humanity. One person who completely justifies the definition of a true hero is Anuradha Koirala from Nepal. Anuradha Koirala withstood years of abuse and violence due to a troubled marriage life. After having three miscarriages her married life came to an end. She was a teacher in Nepal and her earnings were not much. To be a middle-class Nepalese female, (back in the 80's) earning a basic living as an English teacher as a divorced woman life would have been at a significant low.She could have easily given up. Rather she undertook to dedicate her life to help the victims of domestic violence and sex trafficking. 'My life's purpose and responsibility has completely changed', she says while talking about her journey.
Since she was not earning a large amount of money, she initially started with a little retail shop to hire and support victims of sex trafficking and domestic violence. However, with the passage of time she realized that the number of victims is a lot more than what her small shop could possibly accommodate. This is because in Nepal, girls even at a tender age of 6 face the risk of being trafficked across India for prostitution. This prompted her to form Maiti which means "mother's home" in Nepali, an NGO with the support of teachers, social workers and journalists in 1993 which has  been a refuge for women rescued from the brothels in India. The NGO provides shelter and security to young girls and women who are affected by domestic violence, prostitution, forced labour and sex slavery. Ever since the NGO started functioning, Anuradha has helped about 12, 000 girls and women in Nepal to  give their live a new start and prevented 45,000 children and women from being trafficked at the Indian-Nepal border. While some of them are re-united with their families, those infected with AIDS are often shunned by their families. These women are then given shelter at the Maiti Residence and are provided jobs so that they can be financially independent. 'When the girls first come to Maiti, Nepal we never, never ask them a question. We just let them be for as long as they need. We let them play, dance, walk, talk to a friend. They are afraid at first, but eventually they talk to us on their own' she says.
Anuradha treats these people as their own by helping them through  tough times and ensuring that they never have to face any of these evils again. 'Society rejects me and my girls, but they are the most important thing in my life and I'm proud of each one of them,she says.' Maiti Nepal also offers full post-rescue recovery including medical treatment, psychological counseling, and legal advice including filings in courts etc free of cost. But the mission that Anuradha has embarked upon has its share of dangers because of connections of those engaged in prostitution at its highest level in Nepal and India, Maiti Nepal's main office in Kathmandu has been destroyed twice, their volunteers are forced to travel with bodyguards while on rescue missions. This however has not deterred those dedicated to the cause.
For her brave and courageous efforts, Anuradha Koirala been recognized internationally and honored with numerous awards including CNN Hero of the Year 2010, Global Peace Governor Award and The United Nations Women's Organization Prize and Courage of Conscience Award.
At a function she said, 'Just Imagine what would happen if your daughter was standing there. What would you do, how would you fight? So you have to join hands, you have to take each child as your daughter. Soon you will feel their sorrow and then you will feel the strength that comes out of you to protect them.' This shows her commitment to her cause and her attachment with the people at her NGO. Anuradha is a savior and hero for thousands of girls and women who are physically and psychologically broken. We appreciate her efforts and support her for such a noble cause.        
————–
About the Author: This article is contributed by Kudrat Agrawal, our Intern.