Women refuse to ditch their bikes in protest against fatwa on cycling.
"It's our absolute right and we're not going to give up"-Iranian women defy female cycling fatwa by riding bikes in public! Iran's Supreme Leader Ayatollah Ali Khamenei issued a fatwa prohibiting women from riding a bicycle in public places. The fatwa was met with widespread criticism and angered women across the country. The issue came into light earlier this year when campaigners in Iran began marking "car-free Tuesdays" to limit the use of automobiles and cut down on pollution. Women who were seen taking part in the campaign bike rides were frowned upon by some Iranian clerics. It was previously understood that women could ride bicycles as long as religious concerns were respected. But when asked recently, Khamenei said that women were not allowed to ride bicycles in public or in the presence of strangers.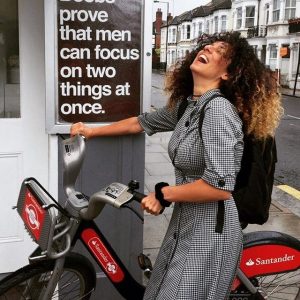 "Riding a bicycle often attracts the attention of men and exposes the society to corruption, and thus contravenes women's chastity, and it must be abandoned," he said on September 10, according to Iranian state media. According to the Independent, Iranian police has warned that women caught cycling will be prosecuted. Since the fatwa was issued, Iranian women have taken to social media using the hashtag #IranianWomenLoveCycling as a form of protest. Masih Alinejad, an Iranian journalist started the movement My Stealthy Freedom and urged women in the country to show themselves cycling. She told ABC: "This fatwa has received much ridicule on social media. "It is absolutely shameful to hear such a backward fatwa against women in the 21st century … it is unacceptable in 2016. "I called on women through my Instagram account to share their reaction, and I received so many photos and videos of women cycling." A video of a mother and daughter cycling around Kish in Iran has received 98,000 views since it was uploaded on My Stealthy Freedom's Facebook page on Monday. In the video, the younger woman explains that when they heard about the fatwa, they "immediately rented two bicycles to say we're not giving up cycling." She also added: "[Cycling] is part of our lives […] It's our absolute right and we're not going to give up." In another video, a female cyclist is seen saying some men had said some "nasty things" about her as she had ridden past them. The founder of the site, Masih Alinejad told the Independent: "It is our basic right to be able to freely cycle. I strongly believe that these acts will bring change.
Women are the main agents of change and as they push for equality we see greater push back from the Islamic Republic. The fight for equality is a historical process, and just in the same way that women succeeded in Europe and the US to win their rights, so will women in Iran".
———— ABOUT THE AUTHOR: This article is written by Priyanka Sengupta, our intern.