Raise Your Voice: A Women Literature Festival organized in Delhi's Jamia Millia Islamia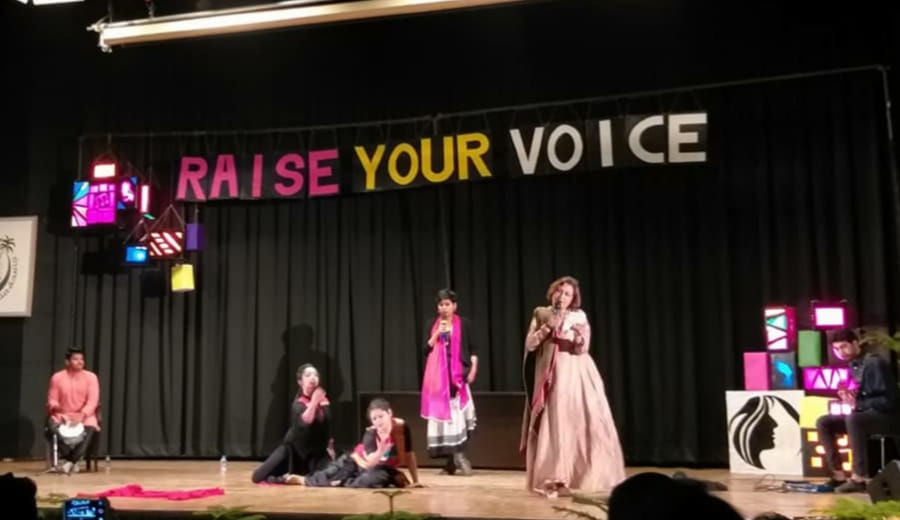 To celebrate International Women's Day, YourVoice organised the Women Literature Festival 2019 – RAISE YOUR VOICE – on 27th February at Jamia Milia Islamia, New Delhi.
With the aim to promote equality and end violence against women, YourVoice provides aspiring artists with an open mic platform to showcase their talent. The concept itself was founded in 2018 by students and alumni of Jamia Millia Islamia and University of Delhi.
"In a country where women still feel insecure, unsafe and not allowed to speak about her day to day harassment, YourVoice believes that it is a high time to give them a platform where they can raise their voice boldly, bluntly and fearlessly."
The One Day Women Poetry Fest – Raise your Voice was organised in line with these ideals in mind.
The programme provided an opportunity to young women poets of the country to start a discussion on patriarchy and sexism in their own poetic way and to take narrate their own stories; and was launched to celebrate the pure bond of sisterhood through poems and it definitely delivered on this promise. It started with an inaugural ceremony and was soon followed by a Panel Discussion on "Role of Poetry and Literature in Women Emancipation". The discussion was moderated by Garima Dutt and the panel featured Arfa Khannum Shervani, Anusha Rizvi, Aditi Maheshwari, and Dr. Meher Fatima. The guest of honour was musician Vidya Shah and the chief guest of the occasion was Mr. A.P. Siddiqui (IPS), Registrar, Jamia Millia Islamia.  
Other notable guests included RJ Sayema among many others.
Amongst other activities that happened throughout the day, the poetry event, "Kalaam-E-Khawateen", by poetess Gayethri Mehta, Rupam and Tehmeena, got an overwhelming and outstanding response from the audience. The Para World Cup Silver Medalist, Pooja Agarwal inspired the audience with her inspirational speech. Finally, the fest came to an end but not before a Sufi night by the coke studio singer Dhruv Sangari.
Respect Women is grateful for the opportunity to be one of the partners of the fest and is looking forward to similarly enthusiastic and inspiring celebrations next year.

 
————
ABOUT THE AUTHOR: This article is written by Aditi Garg, our intern.