Millions Of Women Formed A 620 km-Long "Women's Wall" Against Gender Inequality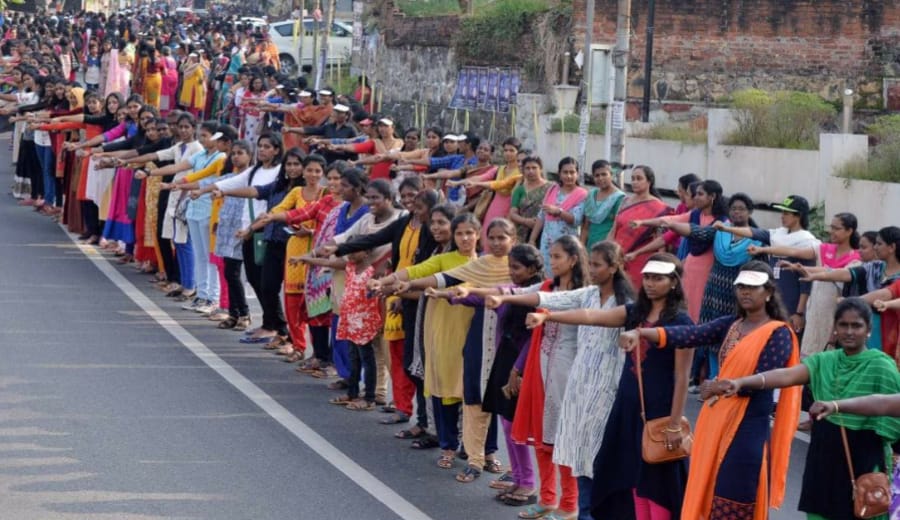 Starting off the new year with a new fight against the patriarchy, on Tuesday, January 1, millions of women participated in a 620 km long "Women's Wall" campaign which stretched from the tip of Kasargod to the end of Kerala's Thiruvananthapuram.
While this campaign was sponsored by the CPI (M) led LDF government in Kerala, the amount of participation and enthusiasm made its objectives crystal clear – the women in Kerala will no longer be oppressed by archaic and patriarchal "customs".  
This human chain was formed against the widespread protests opposing the Supreme Court judgment on Sabarimala temple. The judgment that came out in September struck down the ban on the entry of menstruating women in the temple of Lord Ayyappa at Sabarimala (Sabarimala Temple). Since, there have been various agitations by conservatives claiming that the judgment goes against their traditions, religious sanctity and the notion of purity. A review petition was filed against the judgment in the Supreme Court, which is pending to be heard on January 22, 2019. Due to the widespread protests, women couldn't enter the temple even though the ban had been lifted. 
While the judgment was a huge step forward towards achieving gender justice and furthering the concept of feminism in India, until this demonstration, women had been largely ignored and the narrative was still controlled by men. This campaign attempted at bringing back the focus on women and to showcase their strength and resolute to exercise their right to enter the temple. And that's what it did- merely hours later, two women, Bindu, and Kanaka Durga, both in their 40s, entered the temple with the help of officials. The chain and the movement itself garnered immense support online as well- both nationally and internationally. 
However, this is not an ultimate win as it took nearly four months for women to enter the shrine after the ban was clearly struck down. One would think that at least them entering in the temple is a step in the right direction and while yes indeed it is, after their visit the temple was immediately closed off for an hour so that a purification process could be done by the priests. Their visit also led to even more protests and ultimately police had to use tear gas to disperse crowds. 
On January 3, the Supreme Court refused to grant an urgent hearing on the contempt plea against the priest for the purification, noting that the review petition was already listed, and all connected applications would be heard accordingly after that.
However, despite the subsequent protests, the significance and gravity of the Women's Wall cannot be understated. Being the first of its kind in India, it is a historic turning point for gender justice in the country and its magnitude and influence will be felt for days to come.
————
ABOUT THE AUTHOR: This article is written by Aditi Garg, our intern.