Meet Sarah Patel­, the brave 6 year old girl who tried to stop an axe­wielding robber
Sarah Patel was in her parent's shop in Glenfield, a suburb of Auckland's North Shore, when it was invaded by a gang of six masked robbers who smashed cabinets, bashed the face of an employee and stole thousands of dollars worth of electronics. Caught up in the violent drama, Sarah Patel did what most children of her age wouldn't even think of doing. Nashrin Patel, Sarah's mother, said on TVNZ that her daughter fell on the floor during the ordeal. When she got up, she spotted shopworker Jordan Byrt pinned to the corner of the room by one of the axe­wielding robbers and rushed to his aid. The shop's CCTV footage shows Sarah Patel running towards the attacker and grabbing his leg in a bid to stop the attack. She is shoved aside by the attacker before being led to safety by her grandfather.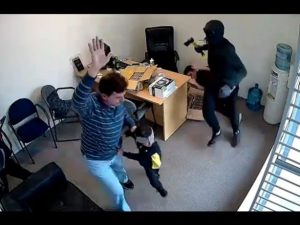 She later told the New Zealand Herald that she was "trying to save" the employee and that she "wasn't scared" of the bad guy. Sarah's father, Suhail Patel, told TVNZ he was "proud" of his daughter and he wasn't surprised that she sprung into action as she was "always trying to help people". He also revealed that though she was shaken by the incident, Sarah was recovering well. "Last night she was very upset. Was in shock. We've been trying to say to her 'You're the bravest girl', that sort of thing," he said. Mr. Byrt said that he was trying to stall for time during the raid, to ensure that Sarah got out safely. He said, "One of the guys had a hand axe and he was chasing after us. I turned around and I saw the boss' young daughter here and I just tried to get them out as soon as I can, just trying to be a distraction". "I ended up being pinned just in the corner. They asked me where the safe was and they kicked me in the face," he added. After they left the shop, the suspects were chased across West Auckland by the police as well as Sarah, her mother and grandfather, until their car was stopped by spikes laid out on the road. Five 16 ­year ­old boys have been charged with aggravated robbery, injuring with intent and breaching bail. A sixth suspect is still to be found.
———— ABOUT THE AUTHOR: This article is written by Priyanka Sengupta, our intern.