2 Young Men Chased Delhi Woman & Passed Comments. She Taught Them A Lesson For Life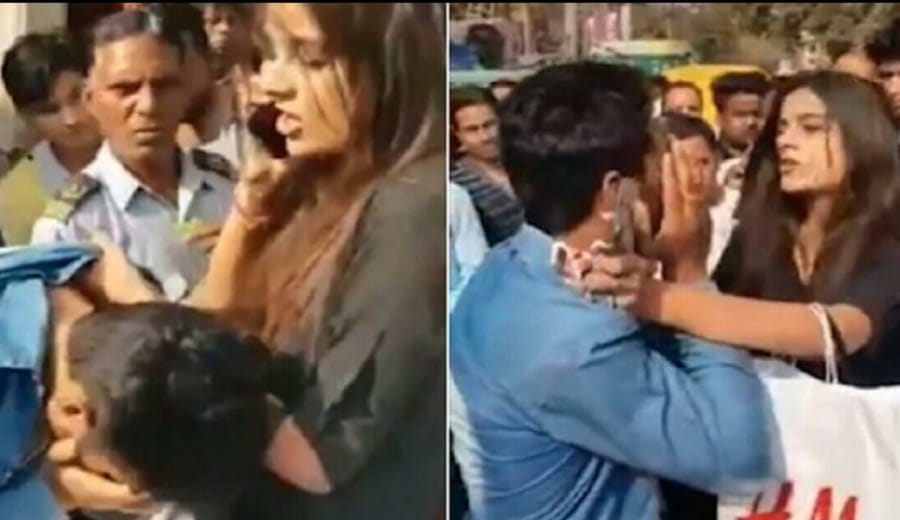 For all the women abusers out there, here's what you need to know – Women are aware of their rights and it's clear now that they won't accept any shit.
A recent incident that happened in Delhi is another example of our
brave girls who are standing against the violence and giving the
offenders the shock of their life.
In the recent incident, a woman was being chased by two men as she was travelling on rickshaw in the Gaffar market of Karol Bagh. The men were chasing her on another rickshaw and were even passing bad comments about her. But the girl instead of ignoring these perverts chose to take stand against them and teach them a good lesson.
While she got hold of a man and slapped him in front of everyone, another man managed to run away from the scene.
No, the story does not ends here, the girl then dragged the guy to the police station. The second man also surrendered himself later.
A video is making rounds on the internet where the girl can be seen dragging the guy, have a look:
A police officer told The Hindu-
"She held the man and called the police. A PCR van reached the spot and brought the youth to Karol Bagh police station. The woman also reached the police station and filed a complaint against the youth."
The police officer also added that a case under IPC Section 509 has been registered. He said-
"Acting on her complaint, we registered a case under IPC Section 509 [word, gesture or act intended to insult the modesty of a woman]. The accused have been arrested."
MORE POWER TO YOU GIRL!!!!
Your thoughts?