Slain Major laid to rest in Dehradun, had grand plans for April wedding anniversary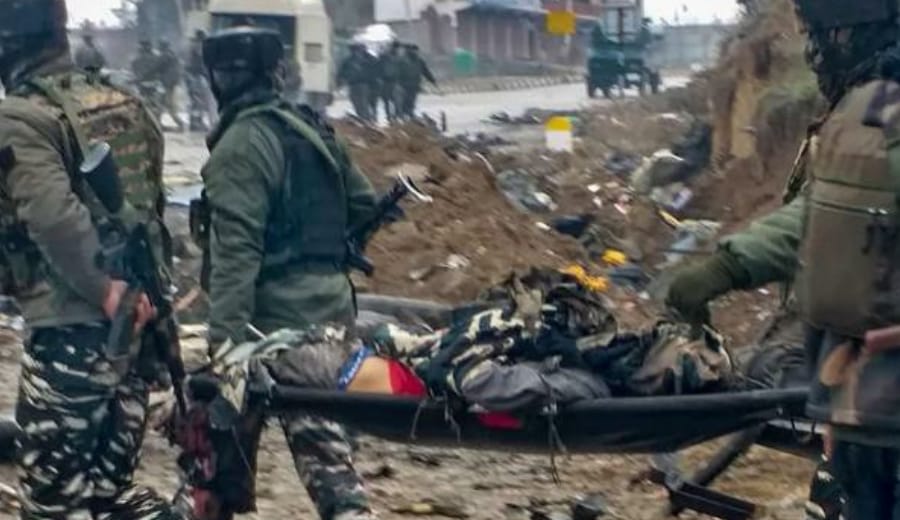 Major Vibhuti Shankar Dhoundiyal was one of the 4 army men that were killed in the encounters with JeM terrorists following the Pulwama attack.
Survived by his wife, three sisters, mother and grandmother, Major Dhoundiyal belonged to the 55 Rashtriya Rifles of the Indian Army. He was the youngest in his family and met his wife, Nitika Kaul, around four years ago. "There was nothing dramatic or extravagant; ours was a very beautiful and simple love story. Our bond strengthened over the years and became stronger after marriage. Even though we lived far away, he was very caring and respected all my decisions."
According to his sister, Vaishnavi Dhoundiyal, he was looking forward to his first marriage anniversary in April and had already made plans for the same. Further, she explained how the family hadn't even put up wedding photos yet and were planning to do so soon.
On Sunday night, Major Dhoundiyal had spoken to his wife before he left for the operation. It was the last time they talked. Mentioning how she was trained from day one to face such a situation, Kaul said, "I am not helpless; my husband was a braveheart." A video of Nitika bidding adieu to her brave husband has gone viral. She can be seen giving him a flying kiss and saluting his mortal remains. 
#WATCH Wife of Major VS Dhoundiyal (who lost his life in an encounter in Pulwama yesterday) by his mortal remains. #Dehradun #Uttarakhand pic.twitter.com/5HWD6RXwnO

— ANI (@ANI) February 19, 2019
"I'm really proud. We all love you. The way you love everyone is entirely different because you sacrifice your life for the people who you may have never contacted, but still you decided to give your life for them. You are such a brave man. I am very honoured to have you as my husband. I'll love you till my last breath. I owe my life to you."
"Yes it's hurting that you're leaving but I know you will always be around. I'll request everyone not to sympathise, rather be very strong because this man holds a position larger than any of us standing here. Let's salute this man. Jai Hind".
At the ceremony, thousands of people came to pay their respects; among these were Dehradun Mayor Sunil Uniyal Gama, state cabinet minister Satpal Maharaj, state assembly Speaker Premchand Agarwal, BJP MLA Ganesh Joshi and ex-MP Tarun Vijay. Uttrakhand Chief Minister Trivendra Singh Rawat can also be seen placing a wreath on the coffin, amid cries of "Shaheed Dhoundiyal Amar Rahein" and "Vande Mataram".
————
ABOUT THE AUTHOR: This article is written by Aditi Garg, our intern.