She Went, She Saw, She Conquered: Priyesha Deshmukh Wins Bronze In World Championships On Her International Debut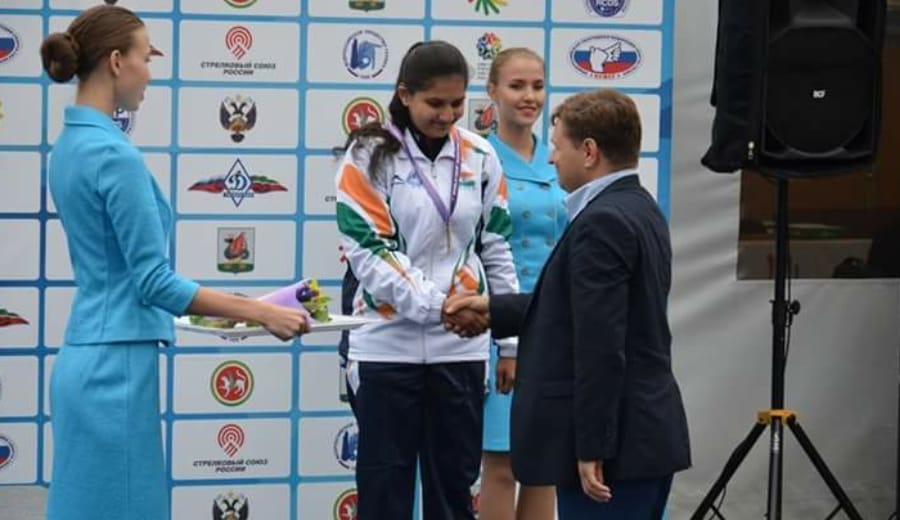 India's Priyesha Deshmukh won the bronze medal in the first ever World Deaf Shooting Championships held in Kazan, Russia.
The hearing impaired shooter from Pune won a bronze medal in the 10m air rifle category on her international debut. Priyesha, who started playing the sport just three years ago, scored 180.4 in the final to secure the third spot. The 23 year old had scored 404.9 in the qualification round to reach the final. Ukraine's Svitlana Yatsenko (201.6 in final) and Serbia's Gordana Mikovic (200.3) won gold and silver respectively. "The medal win is a big morale booster for Priyesha, as she worked really hard for the event," Sharadrao, Priyesha's father, told the Times of India. She has been winning national gold in her the handicapped category since last three years but a medal in her maiden international participation is really big. However, Priyesha's journey to the World Championships was fraught with many obstacles.
Her father revealed: "There is no shooting body for the deaf. The deaf category doesn't come under Indian Olympics Association either. The body that takes care of the sporting affair for the deaf is All India Sports Council of the Deaf (AISCD), but they don't have shooting sport under them. The National Rifle Association of India take care of the para¬shooters, but deaf don't come under para¬shooter's category" (Source: Times of India).
He added: "To get the sports ministry's nod, we first had to convince the AISCD. It was a tedious task, but once they got all the documents in place, they escalated the matter to the sports ministry." Priyesha first got her hands on a rifle in 2008, when she attended a camp in her ninth standard. She asked her father to get a rifle for her, but Sharadrao delayed it as he wanted her "to focus on her studies". When she started college, her father met Olympian Suma Shirur and after discussing with her, got a rifle for his daughter. Sharadrao told the Times of India: "Since all other sports need a lot of communication, shooting suits Priyesha better as she can be on her own. Generally, deaf people have some insecurities and suspicious. They have sharp eyes. This helped Priyesha in improving her shooting. The sport also keeps her away from insecurities." Priyesha is now aiming for the Deaflympics, Olympics for the deaf, scheduled to be held in Samsun, Turkey, next year.  
————
ABOUT THE AUTHOR: This article is written by Priyanka Sengupta, our intern.