Real Life Hero- Shubhreet Kaur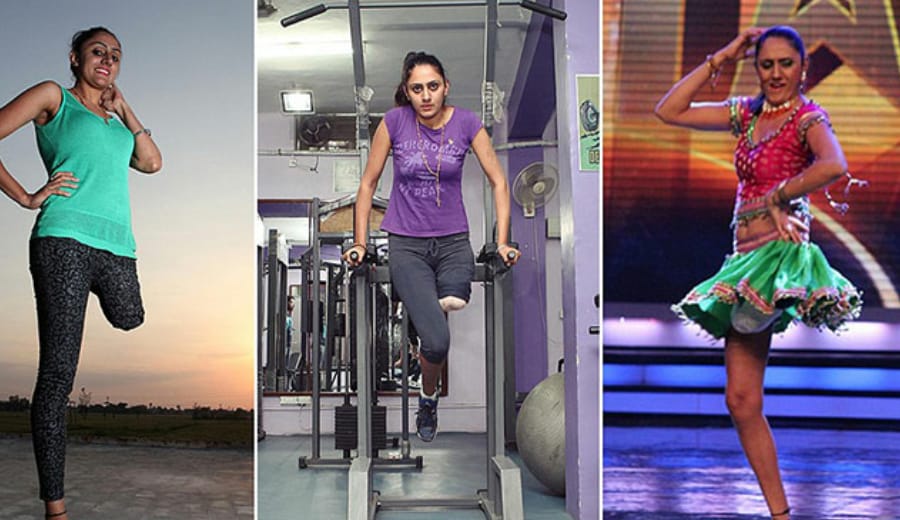 Most of us are in the habit of cribbing about petty issues and associating our lives with things like good clothes and looks, unlimited internet access 24*7 and the like. If things do not go as planned, we think our life is 'over'. But if we were to lose a leg, what would happen? Being incapacitated is much worse than not being able to attend a concert of your favorite singer. Something like this happened with Shubhreet Kaur Ghumman, but did she live with the belief that her life was over? Living in a village in poverty, tragedy struck her life when she was only 13. She lost her father, the sole breadwinner of the family. But this did not deter her from following her dreams. She resolved to get educated and get her family out of poverty. With support from her mother, who struggled to sustain a family of four, she started pursuing B.Sc. in Nursing from Chandigarh, although dancing was her passion. But destiny had some other plans. In October 2009, she met with an accident that severely injured her leg, causing misery and pain. The doctors failed to realize a malformation in her leg when she was operated upon. After a few days, another operation was performed, but due to excess bleeding she slipped into partial coma, although she was revived after some time. Even after these operations and numerous treatment attempts,her leg started getting brown.One day she discovered some ants walking on her leg, but did not feel the pinch. Her worst fear had come true. The leg had stopped working, but she did not cringe. She somehow gathered courage and asked the doctor to amputate the leg. After this horrific incident, she was bed ridden for several months, but did not allow her disability to throw her into darkness. Gathering strength and deciding not to spend her entire life lying on the bed, she got a prosthetic leg. Then came the day, which changed her life forever. She saw double amputee Vinod performing on the reality show India's Got Talent and resolved to go back to dancing, which was her first love.
Initially, she was rejected by many dance academies, but she was driven by the mantra-"It does not matter if 10 doors are shut on your face. At least one will open." That one door indeed opened and she was finally accepted by the Rockstar Academy. She started taking formal training to perfect dance moves with one leg. But she did not succeed easily. She kept stumbling as balancing on one leg was an uphill task. Nevertheless, under the able guidance of her mentor and the moral support she received from her mother,she learned dancing on Bollywood numbers and showcased her skills at various auditions. She got selected for India's Got Talent, where she received a standing ovation. Bollywood stars like Salman Khan appreciated her courage and determination.
Shubhreet drew inspiration from those like her. She refused to take people's sympathy and started living her life as any other normal person. Her journey did not end with IGT. She has dreams of making it big in the film industry. She plans to open a dance academy for the physically handicapped people. Today, with her million-dollar smile and her exceptional courage, she is a role model for those who give up on their dreams due to physical disabilities. She is an epitome of courage and will power. What we can draw from Shubhreet's story is that our life is in our own hands. We are architects of our lives; we have the power to decide how to structure it. Physical disability is no bar to following your heart and chasing your dreams. It takes strong will power and conviction to conquer the adverse circumstances in life, but those who are able to do it achieve milestones. Shubhreet is a real life hero who inspires people to stand up and fight all problems with strength and courage.
————–
About the Author: This article is contributed by Kudrat Agarwal, our Intern.