"Does this face look scary to you?"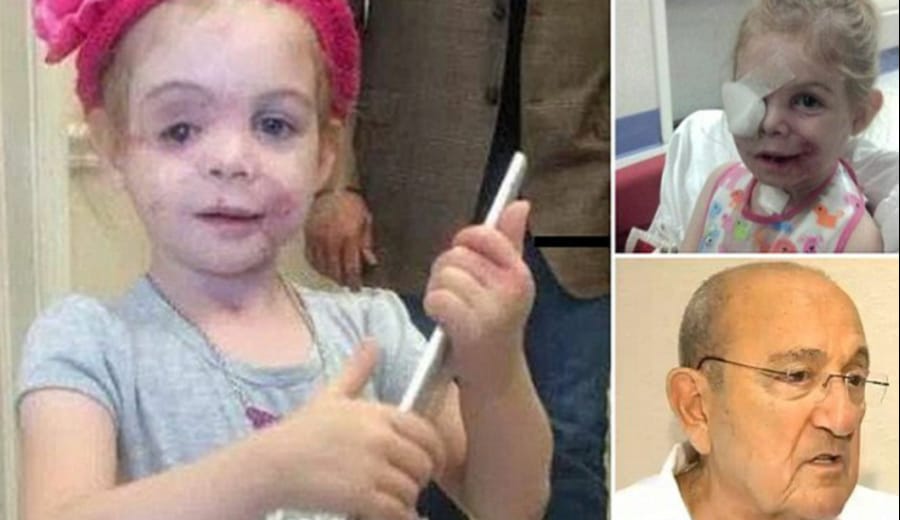 Last week at KFC in Jackson MS this precious face was asked to leave because her face scared the other diners.
KFC accused of kicking out girl, 3, scarred in pit bull attack.
A woman says she and her little granddaughter were asked to leave a Mississippi KFC because a restaurant employee said the girl's facial scars were disturbing customers. (June 16) The outrage came hard and fast after a 3-year-old girl badly scarred and wearing an eye patch because of a pit bull attack was apparently asked to leave a KFC restaurant because her appearance upset other customers. After social media users opened fire on the restaurant, calling for a boycott, the apology from the chain came quickly too. The company said it will donate $30,000 to assist with the girl's medical bills. "The entire KFC family is behind Victoria," company spokesman Rick Maynard said. 'Her face is disrupting our customers' Victoria Wilcher was mauled by three pit bulls a few months ago, causing her to need regular medical treatment. After a doctor's visit last week, grandmother Kelly Mullins took the child to a KFC in Jackson, Mississippi. "I ordered a large sweet tea and her some mashed potatoes and gravy because she was hungry,"She was on a feeding tube at the time, but I figured she could just swallow (the potatoes). They just told us, they said, 'We have to ask you to leave because her face is disrupting our customers.' (Victoria) understood exactly what they said." Victoria cried all the way home, Mullins said. "She's got a lot of surgeries to go through and she won't even look in the mirror anymore," Mullins told WAPT. "When we go to a store, she doesn't even want to get out (of the car). She's 3 years old and she's embarrassed about what she looks like. She's embarrassed and I hate it because she shouldn't be. It ain't her fault."
"Does this face look scary to you?" the family posted on the Victoria's Victories Facebook page and the anger spread online.