Brave Mom becomes human shield to save infant daughter from hailstorm in Australia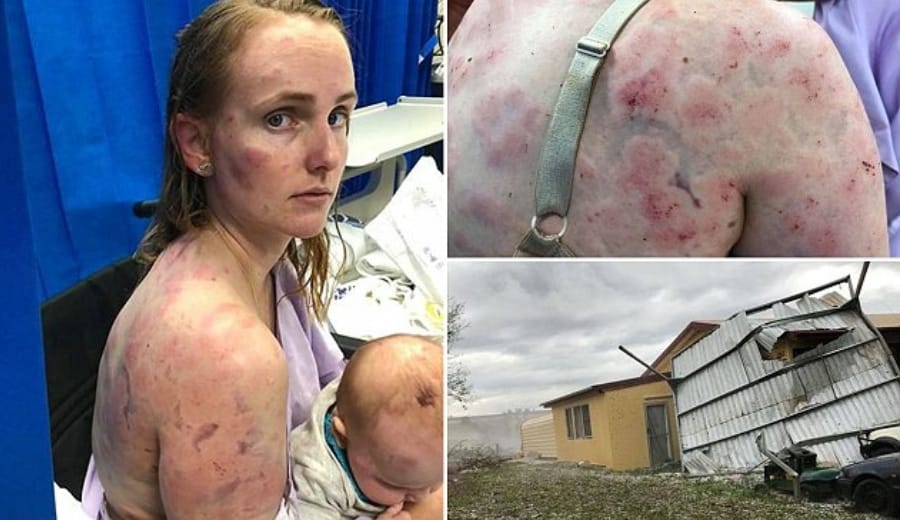 A 23-year-old mother was applauded as a 'wonder woman' for saving her infant daughter, after being caught unawares in a hail-storm that rained down tennis-ball-sized hailstones in Queensland, Australia.
The incident occurred as follows: the lady, Fiona Simpson was driving back to home from a coffee shop with her daughter and grandma. She drove very slowly because of a powerful storm and she thought of waiting till it settles down. But the storm got aggravated and started to hail.
Simpson quoted the Australian Broadcasting Corporation (ABC) – "I couldn't see in front of me, I couldn't even see the line on the road." The hail hit the back seat window exposing her daughter to danger. She didn't think twice, she sprang from her seat and shielded her child from the ball sized hailstones. After it was over, she was glad that they made it out alive. Admitted to the hospital, she took pictures of her bruised body and uploaded in Facebook posting that her grandmother and her kid are alright and she would never ever drive again in a hailstorm.
A lot of people commented on her pics about the danger she faced and praised her for her bravery and quick action. She was surprised to see the comments and reposted that she was glad and just wanted to warn everyone about the danger.
————
ABOUT THE AUTHOR: This article is written by Govind S. Kurup, our intern.