Twin sisters climb the seven summits across seven continents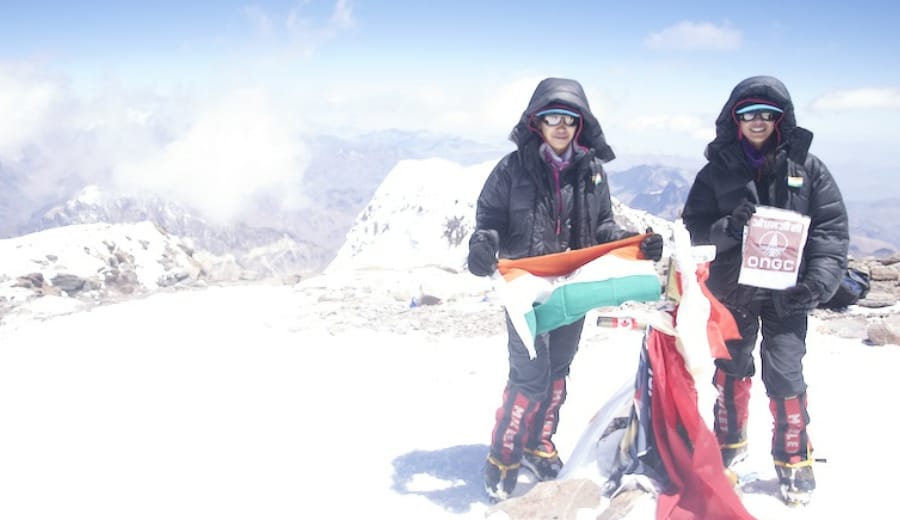 Tashi and Nungshi Malik are not your average 24-year-old twins, they have quite literally 'conquered great heights' by becoming the youngest South Asians to complete the 'Explorers Grand Slam' to raise awareness against female infanticide and to promote mountaineering as a sport.
"We are happy to add another moment of pride and glory for the Indian girl child. For now we are focused on raising the bar of performance so that the girls can claim their rightful place of dignity and respect in our society," said Tashi speaking to NDTV." Mountaineering is a great sport but it has put my parents in debt. Though we scaled many heights for our country, not even a single penny has been provided by the government,"she said.   They are now Guinness world record holders for the 'first twin sisters to climb Mount Everest'  and the fastest South Asians, world's first siblings and first twins to complete the 'Explorers Grand Slam,' also known as The Adventurers Grand Slam which includes climbing the highest peak in each of the seven continents  plus the three poles, the North Pole, the South Pole, and Mount Everest. Only one other South Asian has achieved this feat before the twins, an Indian ex-Naval officer Satyabrat Dam who is now a professional adventurer.
What began in 2009 as a casual vacation course at the Nehru Institute of Mountaineering in Uttarkashi had soon turned into an obsession for the twins who returned the next year for an advanced course and climbed Mt Rudugaira in Gangotri glacier. Since then, they began their feat by scaling Mount Everest on 19 May 2013 along with Samina Baig of Pakistan and they hoisted their national flags on Everest to mark their firm resolve to work for peace between the two nations. All three: Samina, Tashi & Nungshi see gender challenges as one of their common enemy ". Our women face similar gender challenges, let's fight them together. If our women progress, our societies will. And peace is assured," they said. The accomplishment of Tashi nd Nungshi comes with its own set of dangers . In Antarctica, the twins faced temperatures of up to minus 60 degrees Celsius and wind speeds of about 70kmph. "North Pole was even more difficult since the ground wasn't stable, we navigated through running water by hopping on floating ice slabs, 3 metres thick," says Nungshi speaking to TOI. While climbing Mt McKinley in North America, "We were stuck in a snowstorm for two days and were running out of ration," they recall . With just one more day's permit left to try the climb, they went ahead and completed it but followed by a non-stop descent for 36 hours. The adventurous duo also experienced dense tropical forests, cannibalistic tribes and waist-deep mud pools in their 7-8 day trek to the base camp of Carstensz Pyramid in Indonesia. On the way back, they suffered from hallucinations, wandered off the track and had a narrow escape from drowning in a river.  Born to a retired Indian Army officer Col Virendra Singh Malik in Sonepat District of Haryana, the Malik sisters are also proficient in academics and they stood school first & third in their 12th board exams with an impressive score of 94% and 92%.They also have a bachelor's degree in Journalism & Mass Communication from the Sikkim Manipal University. Currently they are pursuing a year-long course in Sports and Exercise Psychology in Invercargill, New Zealand with the sports scholarship provided by the New Zealand government. As the ambassadors of the 'Beti Bachao' campaign, they deliver motivational speeches to schoolgirls and also plan to set up the Nungshi Tashi foundation to promote mountaineering as a sport. 
————–
About the Author: This article is contributed by Sneha Madhuri, our intern.