Teach MEN, Not Women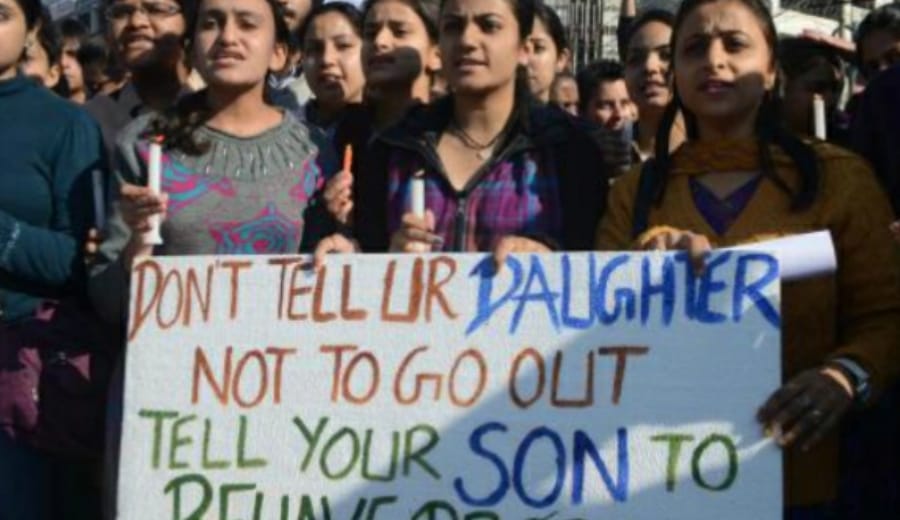 "Don't tell me how to dress, teach men not to rape".  Today, women, all over the globe plead so! Perhaps, most believers of the patriarchal system will ask what that statement means. Sure, one doesn't teach his sons to rape or verbally harass women, but you neither instill the fear of not doing so, in them.
Undoubtedly we have built up a society, where a girl seen with a boy holding hands in public brings shame to her family; where her desire to have an inter caste marriage can bring upon dishonor, while the rules are different if you are a boy. If she wants a drink; if she wants to party, probably she hasn't have a nice upbringing; that's what the majority will say, even today. But if he does so, he is just spoilt by the richness he lives in. He is fearless as he knows that anything he does will be justified by his own family. A report in the newspaper on twenty four of December, last year, disclosed the father of the accused attacking the rape victim. He entered the hostel where she was staying with her family with ten of his men, when her parents had gone to the market. Abducting her, they took her behind the hostel and beat her brutally. Supposing her to be dead, they ran away. Later the victim was admitted to the hospital, in a very critical condition, where she could not even move her hands and legs. In another case, a rich lad along with his friends abducted a tribal girl living in his own street. They took her to an apartment, where two of them got caught by the guard. Since one of the culprits was son of a police station in-charge, the F.I.R. was lodged differently. A kidnapping attempt, turned into a rampage and fracas matter on the paper. He was released charges free, while the other one went to the lock-up. The incident happened on twentieth of December.
In yet another case, which took place on 19th of December, two men, Goldy Khan and his friend raped a 12 year old minor girl with such brutality that it left her senseless. After the incident the culprits threatened her family to not lodge the complaint lest they may do the same to their second daughter.  Initially afraid, the parents told about this to the other residents of the area; who encouraged them to file the case. Though both the accused have been sent to jail, there had been stone throwing by some anti social elements at the victim's house for continuous two days. It is suspected that the activity was carried by their friends. All the three incidents above have been recorded from the same place Ranchi. If one takes into account all such cases, all over the country, the reported as well as the unreported ones, there would be hundreds of them. Why wait for the law to delineate and forbid such detestable behavior? Why aren't they disowned by the society, friends or family? If the guilty in such cases must not be condoned, why should their supporters roam free? Agree or not, a major part of society still believes in the patriarchy system; supporting the wrong-doer and not the wronged. Unless and until, it is infused into their minds, that they would have no one beside them, such heinous crimes will continue. And that is why we request, 'don't tell me how to dress, teach men not to rape'!
———— About the Author: This article has been contributed by Srishti Raj, our intern. Srishti is a student of Computer Science & Engineering at KIIT University at Bhubaneswar. She is an avid reader and a keen observer who yearns to see a change in the society.