Prostitutes don't exist!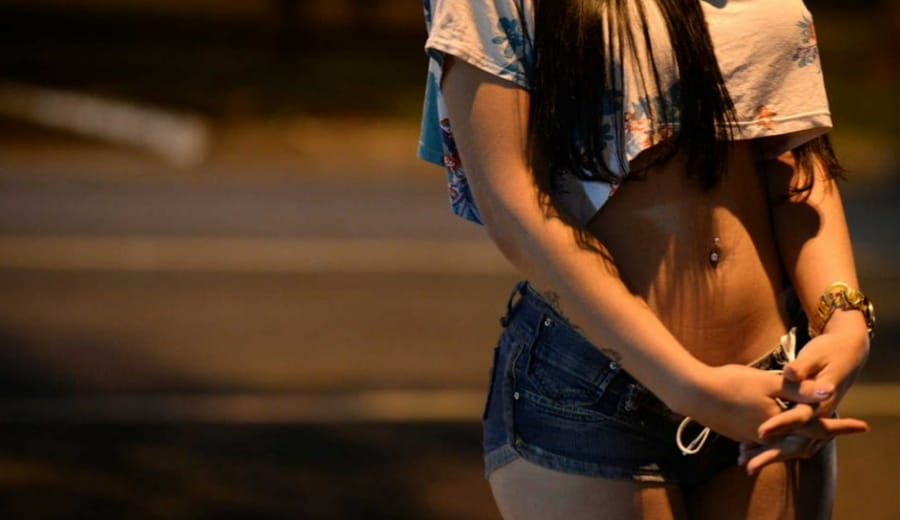 It was a sunny yet chilling afternoon in the mid-December, when I went to Bonta Park in Civil Lines, New Delhi, out of curiosity! I have heard a lot about this place and I just wanted to know if those were rumors or the truth? In a conversation, a friend told me that prostitution is active in Bonta Park, even after high police surveillance. Finding it hard to believe I decided to witness it myself. Well sadly, what he said was true. I could see everything; prostitutes, pimps, perverts and the police.
Oh, sorry did I say I saw prostitutes. No, actually they don't exist. Our law doesn't recognize their presence. They are not legally the citizens of our country. So, I better say that I saw some women like silhouettes, who probably might be ghosts too! While the ghosties (as  prostitutes have no recognition, so nicknaming them as ghostie)  of Bonta park were hiding in the bushes , the other 3 million ghosties were either being raped, satisfying someone, trying to escape, managing a brothel, pandering or searching for kerb crawlers specially on the red-light areas . When I asked one of them that for how long she had been coming here, what is her age, why she does it, how many like her does she accompany? She replied in a very hesitant but obvious manner, "hum jab 17 saal ki the tab se hain isme, kyunki kisi aur ko jante nahi aur vahan (in brothel) bahut dost ban gaye hain aur paisa bhi milta hai . Bahut jyada nahi milta par kuch aur jaante bhi nahi karna toh isiliye yeh karte hain. Hum jaise teen aur hain abhi , par thodi doori par. "
As the time was running short and the man on patrolling got suspicious of my intentions I had to leave that co-existing world of shadows. What I couldn't leave behind were the memories of it.  I was incapable of limiting my imagination of her face perfectly overdone with make-up, tied hair, clothes revealing and cleaving enough to attract customers (as they say it) and a truth that they are still invisible. No crime can happen to them, they are the proven culprits. Why? Because they sell their body to eat and our government will let them suffer because they fail to comprehend with the reasons as to why prostitution must be legalized. Though we Indians are notorious for having a short-lived memory, yet I believe none of us forgot the Photo Journalist who was gang-raped in Mumbai and the entire clamored media coverage about it. To its follow-up (August 28, 2013; NDTV), the gang that raped the journalist, few days back, also raped a prostitute but no case was filed against it. Wondering why? Well, because people see it like a group of people had sex with ghostie and chased her away without paying. Yes, this is the plight of ghostie in our country. I ask, how do we abrogate this injustice? By first knowing what prostitution is (earning by selling body), how it occurs and who are involved (either by child-trafficking or family tradition majorly. Adolescents, young girls, middle aged or old women, it treats everyone as equals). Now, accepting that it is ironical but true. As in, it is wrong to have prostitution breathing in a country where people talk of equal opportunity and respect but one can't take an escape and deny that 'it exists'. Thus, giving it recognition and safeguarding the rights of ghostie and considering them as workers, Sex-workers, and by giving them constitutional status and legal autonomy is important, but nobody bothers! Even in an interview when I asked, Sucheta De, former JNU President, about her take on legalizing prostitution, she said that it is mere hypocrisy to not accept the presence of prostitution. In order to make a bias free society, it is very important to recognize them as labors and they must be provided with wages.  "We are running a state where prostitution occurs and we still don't accept the fact and criminalize it when fight for exploitation free society is going along." She adds.
———— About the Author: This article is contributed by Snigdha Jindal, our Guest Writer. Snigdha is a student of development communication in AJK MCRC Jamia Millia Islamia.  She constantly wishes to put her effort in understanding and improving the problems of Women at the root level via writing, photography or any other medium which incites the general interest.