Meet The 15 Women Who Helped Draft The Indian Constitution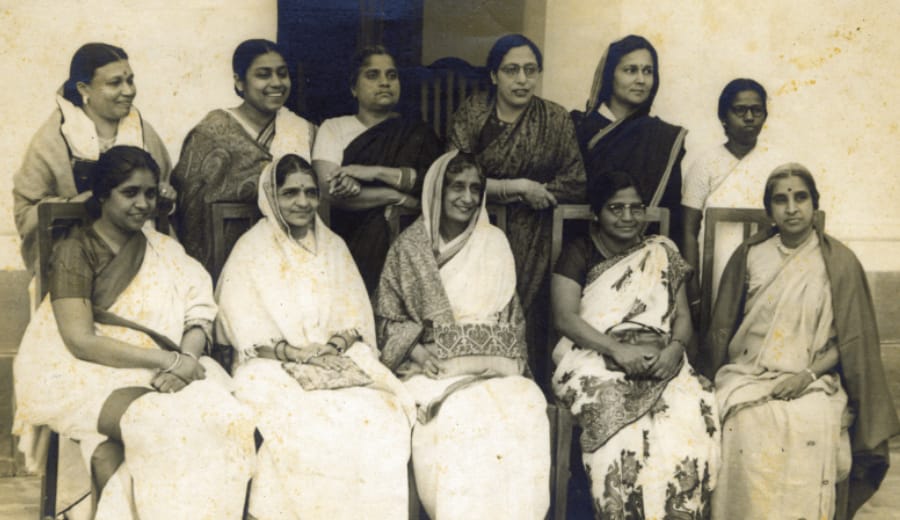 Indian Constitution is the longest constitutions in the world and was adopted on 26 November 1949 and came into force on 26 January 1950. The Constituent Assembly was formed in December 1946 and there were a total of 389 members in it. When the Constitution was first drafted it was handwritten in Hindi as well as in English. It took more than 2 years to draft the Indian Constitution. Though B.R. Ambedkar is recognized as the father of the Indian Constitution, other than him there were also 15 women who helped in drafting the Constitution. Let's understand the lives of these women who played a significant role in the Indian Constitution. 
Ammu

 

Swaminathan

 
One of these women from Palakkad, Kerala was Ammu Swaminathan who belonged to an upper caste Hindu family.  She had formed the Women's Indian Association in the year 1917 and was a social worker and political activist by profession. Ammu was a part of the Lok Sabha in 1952 and Rajya Sabha in 1954. In the year 1959 she became the Vice President of Fedaration of Film Societies and from 1960-1965 was the head of Bharat Scouts and Guides and Censor Board and was a staunch follower of Mahatma Gandhi, who made her actively take part in the Non-violent protests led by him and later on became a part of the constituent assembly after India got independence. She was a well- known political leader in India and worked  for improving the lives of women in Tamil Nadu.
Dakshayani

 

Velayudhan

 
Dakshayani Velayudhan from Cochin was one among the few educated in her community and the first Dalit woman to be elected in the Constituent Assembly.  She was the head of the depressed classes. Dakshayani  favoured Ambedkar on various issues relating to Scheduled Castes in the Constituent Assembly debates. When she became a member of the parliament, she worked on the issues of education, especially for Scheduled Castes. In the year 1945, she was elected for the Cochin Legislative Council by the State Government. 
Begum Aizaz Rasul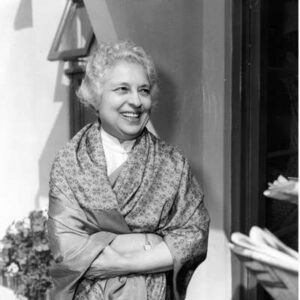 Begum Aizaz was born in the royal family of Malerkotla. She got married to Nawaab Aizaz Rasul who was a landowner. She was a part of the Muslim League and later joined electoral politics. She joined Congress in 1950 and later on from 1969-1971 was the minister of Social welfare Minorities. Begum Aizaz was the first and only Muslim woman to be a part of the Constituent Assembly who became a member of Rajya Sabha in 1952 and a member of  Uttar Pradesh Legislative Assembly from  1968 to 1990. She was awarded the Padma Bhushan for her contribution in Social Work and played a major role in bringing up the concept of reservation for religious minorities. Begum Aizaz was also against the concept of Purdah system. 
Durgabai Deshmukh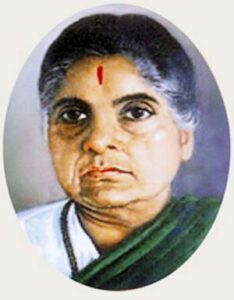 Durgabai was  12 years old when she took part in the non-cooperation movement and later on was part of Salt Satyagraha and then became a criminal lawyer.   She created Andhra Mahila Sabha, which within a span of 10 years became a well- known institution for education and social welfare in Madras. Durgabai was awarded Nehru literary Award for her contribution in promoting literacy in India and was also awarded Padma Vibhushan.  She became the  Chairwoman for many central organisations which worked for the welfare and upliftment of  women and girls. She was also an MP and a member of Planning Commission. She was the first chairperson of National Council on Women's Education which was started by the government in 1958. 
Hansa Jivraj Mehta

 
Hansa was a reformer, social activist, educator and also a writer. She completed her Journalism and Sociology from England and  was a prolific writer for children.   She was the president of All India Women's Conference for the year 1945-1946 and was also nominated for Bombay schools Committee in 1926. Hansa gave a proposal regarding Women's Rights in the All India Women's Conference. From 1945 to 1960 she held various positions in many organisations like All India Secondary Board of Education and many more. Hansa fought for various issues like education, gender equality, parity and upliftment of women. She was nominated as the member of the Executive Board at UNESCO. Hansa played a significant role in the implementation of Article 1 of the UDHR. 
Kamla Chaudhary

 
Kamla had actively taken part in the Civil Disobedience movement and also joined nationalists. Even though Kamla was from a well to do family she had to struggle for her education. In the 54th session of the All India Congress Committee she was elected as the Vice President and was also nominated as the member of the Lok Sabha in the 1970s. She was also a well- known fiction writer and her stories revolved around women. 
Leela Roy

 
Leela was born in Assam in 1900. She completed her education from Bethune College in 1921. She became the assistant secretary of All Bengal Women's Suffrage Committee  and took the initiative in fighting  for women's rights.  Leela formed Decca Mahila Satyagraha Sangha and also took an active part in Anti- Salt Tax movement. She was the founder of Dipali Sangha which was established in 1921 and also established various schools which became the centres for political discussions.  Leela was the editor of the journal, Jayashree. She joined Congress in the year 1937 and a year later established Bengal Provincial Congress Women's Organization. Subhash Chandra Bose established a Women's Subcommittee to which Leela was a member. Netaji gave the complete responsibility of the party activity to Leela before he left India. She was the Chairperson of a newly  formed party which was a merger of Forward Bloc and Praja Socialist and was disappointed with the way the party was functioning. Leela was a strong supporter of feminism and also  worked a lot regarding  the education of women in the country. 
Malati Chaudhary

 
Malati was born in a well- known family  in East Bengal. In 1921, she was sent to Santiniketan and got enrolled in Vishwa Bharti at the age of 16 years. She got married to Nabakrishna Chaudhuri, who went on to become the Chief Minister of Odisha. Malati Chaudhary took part in salt satyagraha and joined the  Indian National Congress. She along with her husband developed an awareness among people and mobilized their support for the success of the satyagraha movement. In the year 1933, she established Utkal Congress Samajvadi Karmi Sangh with the support of her husband which was later on renamed as Orissa Provincial Branch of the All India Congress Socialist Party. She was a part of Gandhiji's padayatra which took place in Orissa. Malati raised her voice against the announcement of emergency by Indira Gandhi for which she was imprisoned. She was named Toophani by Mahatma Gandhi and really worked hard for the upliftment of ST, SC, OBC and other marginalized sections of the society. 
Purnima Banerjee
Purnima was the secretary of Allahabad's National Congress Committee, who took part in  the  freedom movement in the late 1930s and 1940s. She participated in Satyagraha and Quit India Movement for which she was arrested and completed her education during her imprisonment.  Purnima had delivered many speeches in the Constituent assembly regarding Socialist Ideology. As she was the Secretary of the city Committee, she had the responsibility for taking part and organizing Trade Unions, Kisan Meetings and work regarding rural development. 
Rajkumari

 

Amrit Kaur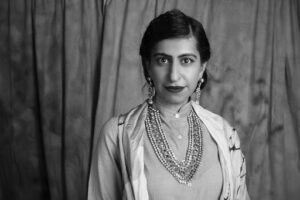 Rajkumari Amrit kaur was born in Lucknow and completed her schooling in England.  She had to give up everything to become Mahatma Gandhi's secretary for a period of 16 years.  She established the Tuberculosis Association of India as well as The central Leprosy and research institute. Rajkumari  Amrit  Kaur held the position of  the first Indian health Minister  for 10 years. She founded the All India Institute of Medical Sciences and also argued for its autonomy. Amrit Kaur really wanted women to be educated and participate in sports and contribute to healthcare. She was imprisoned for being part of Dandi March and Quit India Movement and really worked hard to eradicate child marriage and purdah system. 
Renuka Ray

 
Renuka had completed her graduation from London School of Economics.  She was the legal secretary for the  All India Women's Conference and a  member of Central Legislative assembly, Constituent Assembly and provisional Parliament  from  1943-1946. Renuka urged for a uniform civil code as India was a country where women  were not given equal status. She was the minister of relief and rehabilitation from 1952-1957. She was a member of Lok Sabha from Malda in the year 1957 and 1962. Renuka founded the all Bengal Women's Union and Women's Coordinating Council. She argued for women's rights and their inheritance rights in parental property.
Sarojini Naidu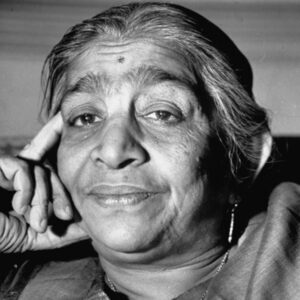 Sarojini Naidu also known as the Nightingale of India was the first Indian woman to become the president of Indian National Congress and also to be appointed as an Indian State Governor.  She was also imprisoned for carrying out Anti-British activities. She went to various countries like Africa, North America and many more and lectured on the congress movements between  1928-1929. Sarojini Naidu along with Mahatma Gandhi attended the roundtable conference which took place in 1923 and also founded the Women's India Association in 1917. 
Sucheta

 

Kriplani

 
Sucheta played a major role in quite India movement 1942. She was the first woman Chief Minister who created a separate women's wing in the Congress Party. After the independence,  Sucheta became a member of parliament from Delhi. Later on she became the Minister of Labour, Community Development and Industry in UP's State Government and served as the chief Minister of Uttar Pradesh till 1967. She was a member of the subcommittee which helped in drafting the constitution. 
Vijalakshmi

 

Pandit

 
Vijalakshmi, sister of Jawaharlal Nehru was born in Allahabad in the year 1900 and was imprisoned by the Britishers three times between 1932-1943. She was the first woman to become a cabinet minister in India and had a long career in politics which started when she was elected in the Allahabad Municipal Board. Later in the year 1936, Vijayalakshmi  was elected in the Assembly of United Provinces and in the year 1937 was the minister of Local Self Government and Public Health. In the year 1939, she was a part of the protest that was conducted against the Britishers for India being a participant in World War II. She was the first Asian Woman to be elected as the president of U.N. General Assembly. 
Annie Mascarene

 
Annie was born into a Catholic family which was based in Thiruvananthapuram. She was the first woman MP from Kerala and also the first woman  to be a part of Travancore State Congress  who was imprisoned for her Political activism. Annie was elected for the first Lok Sabha in the Indian General Election for the year 1951. For a short duration, she was the Minister of Health and power for the year 1949-1950. 
————
ABOUT THE AUTHOR: This article is written by Aishwarya Seetharaman, our intern.