Female Go-Getters Of India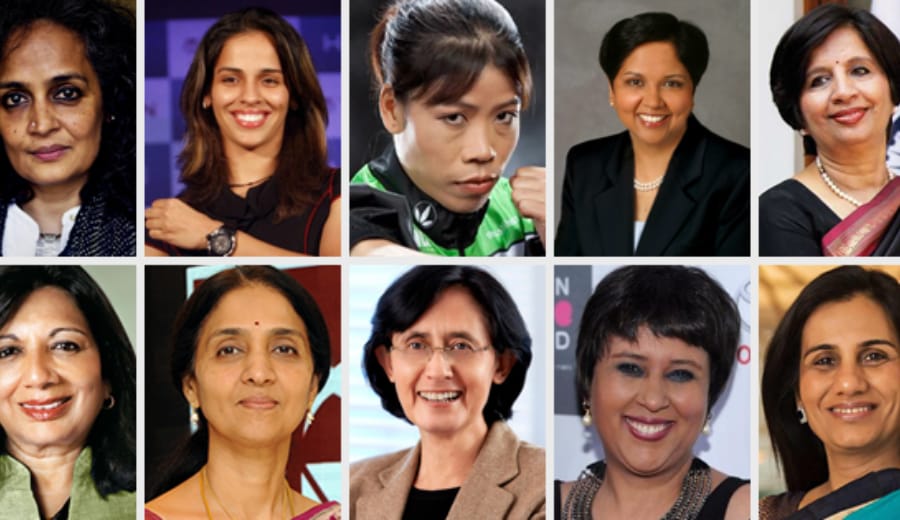 Women's role in India has been evolving and they are now emerging from the past traditions into a new era of freedom and independence. Some have taken up the role of entrepreneurs; some have taken up leadership roles and some work in service sectors. They have excelled in every industry whether it's banking or corporate sector and have proved themselves beyond doubt in every facet of life.  Many more women are joining the corporate sector and making wonders.  Now women not only nurture their children but also run the whole organization efficiently.
In the tech field, Vanitha Narayanan(Managing Director, IBM India), Neelam Dhawan(Managing Director, HP India),  and Kirthiga Reddy (Director, Facebook India) are the iconic figures of IT industry.  Even in the banking sector, women surpass men in their performance. According to a study, out of 4,673 candidates, whom Standard Chartered Bank recruited in 2007, 37% were women. They constituted 34% of the recruits in 2008. Standard Chartered Bank's male-female ratio of employees in India, at present, is 69:31. ICICI Bank has already earned a reputation for its employee diversity with a 70:30 male-female ratio. Axis Bank too claims that in the metro branches, its ratio is even higher at 40%. And how can I forget to mention Chanda Kochhar and Naina Lal Kidwai who are running India's largest banks ICICI and HSBC respectively. In the film industry, Ekta Kapoor(Managing Director, Balaji Telefilms) and Farah Khan, the renowned director have created history. Women entrepreneurs are increasing at a fast pace in India. A recent global survey pointed out that among all early-stage entrepreneurs, around one-third or 32% are women. Although it has been a tremendous phase for women in the corporate sector, the representation of women globally is low. Globally, women represent only around 10% of all board-level positions worldwide. So to achieve the goal of eliminating gender disparity more women are needed to be a part of the industry. Fear of failure, access to funding, work-life balance, lack of role models, and emotional decision making are some of the challenges faced by women entrepreneurs. Yet they are capable enough to overcome such hurdles. So I would like to suggest to all those aspiring women entrepreneurs that break the walls of fear and get ready to showcase your creativity, your inbound skills and overcome this stigma of so-called patriarchal society because you deserve to live your life confidently, independently and respectfully.
—
About the Author: The article has been contributed by our intern, Swati Agrawal.