Sweetest Proposals That Women Love!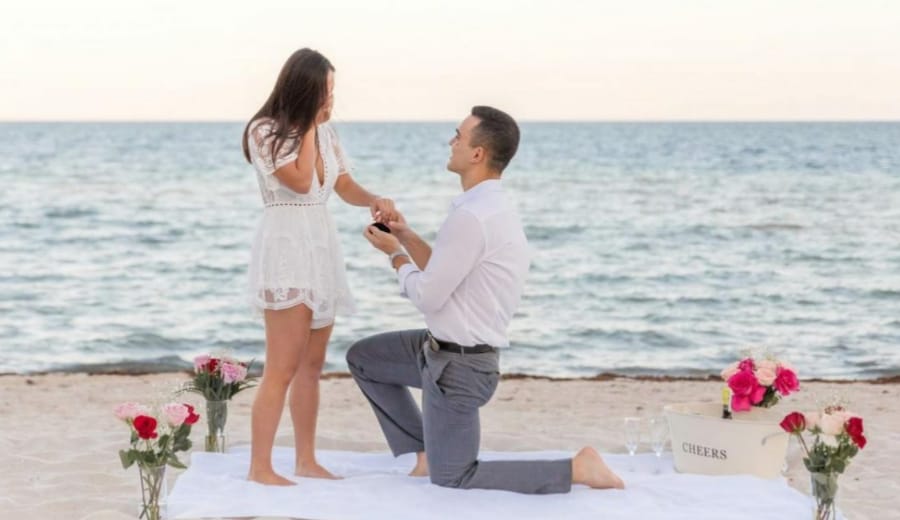 Going on knees or waiting at the door step with a bouquet of flowers, men are really good at proposals.
But when it comes to, 'What kind of proposals do women love?' , men seem to know very little about it. So here's a sweet (informative….ha-ha) article for helping people with better ways to propose.
To begin with, new year proposals are always wonderful. No need of alarms and reminders. Everyone stays awake the whole night and hence showing up at the door or a video call surprises women and there is a high chance of your proposal being accepted. Keeping up the right time is needy here. Sharp 11:59:59 proposals take off well , and 12:00:00 proposals fly high in the sky. A minute earlier or later too creates it's own impacts. But be sure for the facts like ' the line doesn't remain engaged ' or ' you are sure of her number '.
Friendship is a worthy platform to act as a stepping stone for love. Friendship day is common, but remembering the day of friendship is different yet difficult too. While celebrating your own ' friendship day ' , it is a good chance to ask for her hand to move further and farther in the journey of life. Another sweet (yet old) method is to ask your girl for a day out , which may/mayn't be a special occasion and pouring out all your feelings for her.
We might have seen in many Facebook posts and images like having a good image of the proposal and people who hold cards like ' you are my dazzle ' , ' add flavor to my delicious life ' and more. It adds much more cuteness and gives an impression like the-guy-really-craves-for-this-girl. The only point to be noted here is that it must not look dramatic. It may be like a beautiful scene in a romantic movie but it must not turn out to be an average movie review. Late night chats can help people express their feelings. He may have/had crush for the girl , but when it comes to a chat in a very calm atmosphere people are more likely to propose their girl. But take into account that the proposal is really a serious one and will be in memory till the next morning. (Make sure). Not only for the next morning…for many years too. The girl gets a whole night to think about and give a positive reply next morning.
Casual chats are too a good choice for such cute proposals. Midst a normal chat, an unexpected proposal may seem a bit abnormal, but it gives good results than the rehearsed ones. Rather than avoiding tensions the natural feel that emerges out of it is unbeatable. Alarm proposals may give hand when they aren't brave enough. Grabbing her phone and setting alarm like 'Wake up baby, I am in love with you' helps at such times and it can be a sweet surprise too. But make sure it doesn't disturb her cute sleep and make her mood bad.
Finally if marriage is a wonderful day which comes once in a life time, proposals are nothing less than that. Even if the girl doesn't accept the proposal, wish yourself a better luck next time. Take stuffs positively. May be the best girl would have fallen for you already, while you bothered to read this!
————
ABOUT THE AUTHOR: This article is written by Aditi Nath, our intern.