What makes my menses kill your senses?
Childhood was bliss. Attendance at the school had always been perfect since the periods had always been amazing, even illness could never steal that zeal; whereas getting stained on the playground was fun and bleeding through wounds counted as medals. The color red has always fascinated so many young girls since ages, be it the color of ribbons, nail polishes, lipsticks, matching bangles with the beautiful dresses, the sign of womanhood interpreted through the vermilion on their mothers' foreheads or be it the red beating heart. But, with the onset of puberty, bleeding and getting stained lost their nursery meanings and emerged as an unknown and unexplained disgrace. Red was no more just a color to feel good about but the mark of horror and leaked periods.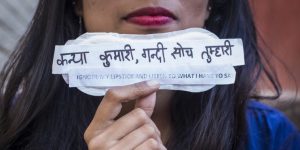 Be it the school time table, the motion in Physics chapters, the historic Table by Mendeleev, the classical prosodies or be it the end of every potential debate, the word "Period" has always been an integral element and well discussed…but, unfortunately, talking about the physiological "periods" has constantly been a strict no-no. The biggest irony of menstruation is that it is essential but impure or rather an ailment. All across the globe, there are millions of menstruating women who are treated as diseased individuals and kept away from their daily routine activities. Well…most of these apparently inhuman practices basically have a scientific explanation as they ensure a more relaxed and hassle free menses  but then, by now, these practices have lost their scientific essence and have been misused as weapons of stigma, shame and blasphemy with course of time. Now, my question is: who is responsible for this? When you accept a sanitary pad wrapped in a newspaper, are you not approving the myth that yes…it's something that a girl is supposed to hide? Most importantly, what makes you hide it? Do you wrap your other needy items in newspapers or black polythene bags? Have you ever seen males hiding their razors or anything they need? What makes you fumble while asking for or choosing the best deal as your period precautions at any shop? What makes you skip or escape from a discussion on your own cycle? Why do those stupid giggles in a menstruation lecture class make u feel ridiculed? What makes you feel embarrassed when the males in your family, friends or workplace discover that you are going through your menses? What makes you shiver if you notice that your dress has been stained? What makes you ashamed of your own blood? Have you ever tried to ask any of those people, who knowingly or unknowingly volunteer for this taboo tradition, whether they would be happy to have a non-menstruating woman as a daughter in-law/wife? So…who is responsible: Is it the misleading society or you as a blind follower and self-chained victim? India is a land of diversities, ironies and hypocrisies. A bleeding Kamakhya goddess is worshipped at the Temple nestled high up on the Nilachal Hill, in the West of Guwahati, Assam, but menstruating women are not allowed inside for offering their prayers. A blood stain on a girl's cloth raises discomfort but no one gets bothered to witness the "paan and gutka" spits and stains at every nook and corner of their surroundings or even in their own mouths. People forget that their respective mothers did not bleed for nine months because they are made of the same blood they consider "impure". If a bleeding woman touches dettol, it doesn't turn into 99% germs…trust me! Menstruation doesn't matter but menstruation education and hygiene do. Be happy to bleed and break the tradition of being silent; educate yourself, your children (irrespective of their gender) and everyone else about this process being a natural one; wipe out the myths, promote healthy and friendly discussions on periods, encourage your male counterparts to buy the napkins, boost up your child's self-confidence and inspire her to carry out her routine activities as any other day; learn and teach the safe use and disposal of sanitary pads, and most importantly teach yourself and your child how to manage menstruation with dignity and pride. Remember, every education should begin from home and menstruation should be one of them. Periods are not too gross or too weird or too inappropriate to talk about. It's natural and it's healthy. STOP MENSTRUPHOBIA…TURN THE TABOO INTO A TREASURE…PERIOD!     ———— ABOUT THE AUTHOR: This article is written by Payel Sarkar, our intern.