The cafe in Lucknow is run by acid attack survivors
When you decide to go out as a family, have fun to the core and then finally decide to add to the day of laughter and jokes with a wonderful food in a high class vegetarian cafe. The cafe with Wi-Fi and also food of very fine quality. But when you walk inside the cafe, you find a bunch of girls, face full of smile, but their skin all damped and cramped, scars all over their face and then you realize that they are acid attack victims. How would you feel?
Would you feel pity for them? Would you regret deciding to have your dinner in that specific cafe? Would you feel proud of them? Would you decide to keep visiting their cafe to show that you support their effort to live their life overcoming their barriers? Well, well, when you go to Sheroes Hangout, which is quite close to Taj Mahal, the pride of India, you will see the other pride of India, where five young ladies, not with the external beauty, but with their hearts full of beauty, who jumped over all their barriers, standing as owners of this café, with their eyes full of new energy. Five women made the world turn towards their side. When it is natural for any acid attack survivor to hide her face in same, they laugh out loud with no hesitation.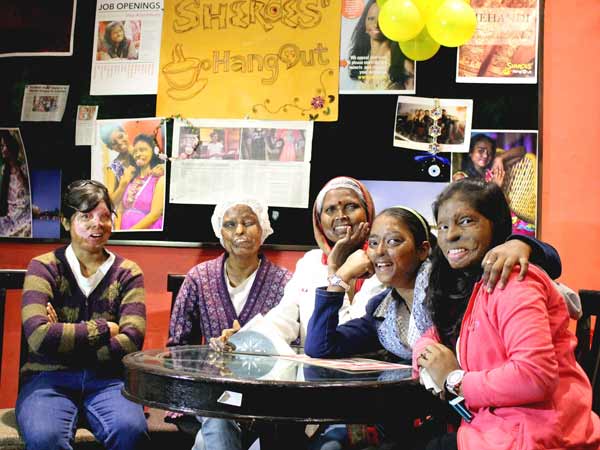 While acid attack survivor yearn to give a full stop to her life, here there are five women standing, living their life to their fullest.  They didn't let others gossips to slow them down, they didn't let others pathetic look to drag them down.They didn't let their own lack of confidence to pull them behind, but above all these, they had the determination, that beauty is not defined by the outward look. They don't deserve our pity but our appreciation. They've come across the phase of pitying, but now, they are above the storms, flying up in the air, and all the credits goes to their own effort and confidence. Their spirit has put them together so far, and though they serve only vegetarian food, their cafe is full of customers. They are supported by the commoners, and everyone is proud to see the smile on their face. They prove that womanhood is not about beauty, but the real womanhood is about the high determination we possess.
————-
About the author: This article is written by our intern, Sherly Hephzibah.