Special Occasion or Everyday Wear, These Sarees Make Everyone Go Gaga
Change is constant, and we all know that. Though one trend that has not changed so far is the fashion of donning a saree. A saree is the true reflection of a woman's elegance and timeliness in India. Contemporary sarees are one of those garments that have been experimented with since a long passage of time.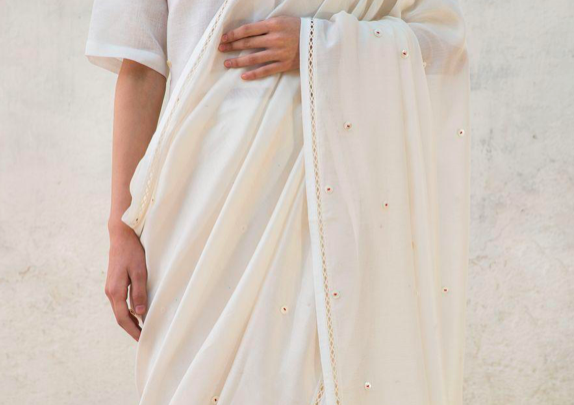 Any contemporary saree paired with staple accessories like bindi, jhumkas and bangles looks like a tale-to-tell. From classic to modern rendition, there are many saree styles to experiment with. All hail the innovative fashion designers who have reinvented the nine-yard wonder. From Bollywood to Hollywood, experimenting with contemporary sarees has become the latest fad.
This festive season you should rekindle your love for saree. Here are a few cosmopolitan sarees that will make you look bewitching around the clock.
Sandy Dune Saree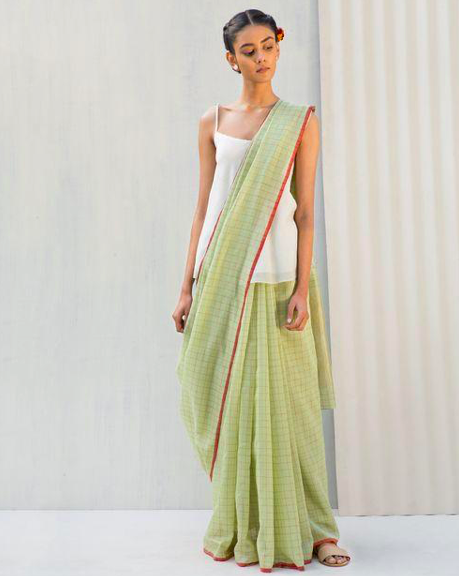 Sandy Dune Saree by Nicobar
Invite the fall with a little thrive and make all the heads turn towards you with a desert green saree. In yards of rich chanderi, this is the perfect fix for anyone who adores charismatic minimalist fashion. A contrasting blouse adds extra glam to the captivating look. Women are going ahead and throwing in the trend of wearing slip tops under their saree. Be like a twinkling star with this coruscating look.
Luna Saree
Luna Saree by Nicobar
Take a swing from conventional to a contemporary saree this season. A white chikankari saree with sneakers is bound to get the dubious of fashionistas onboard. You can pair it up with a bustier to give a peekaboo factor to the stunning look. Carry a vintage clutch to give it a final touch. We bet you won't be able to keep your eyes off this one. Begin your packing for this festive season starting with this contemporary saree.
Twirl in Black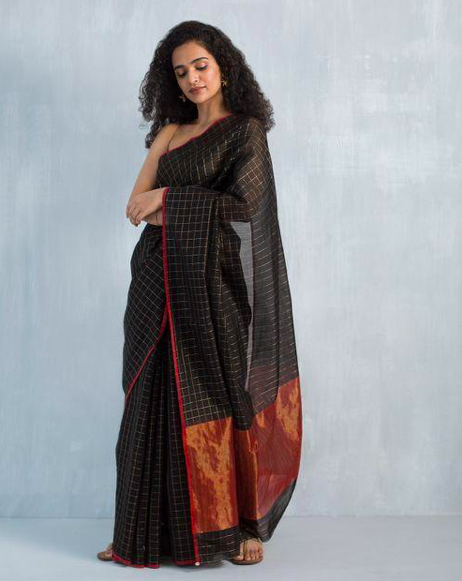 Even though people have been talking about how "orange is the new black", we cannot be sure. A black chanderi saree will look cosmopolitan and coruscating, which is ideal for this festive autumn. Those intricate gold checks all over the body make it looks captivating. Pair up this evening soiree with statement Kundan jhumkas to achieve a refined look.
Teardrop Cotton Saree
Teardrop Chanderi Saree by Nicobar
The classy experimentation in this contemporary saree leads to a silver foil pattern all over the body. This contemporary cotton saree looks like it came alive right out of one of your pinned saree designs on Pinterest. It's truly one kind of a garment to slay. From the enchanting pink colour to the gota work, this saree screams grandeur. Sturt in style like the diva you are.
Minimal Print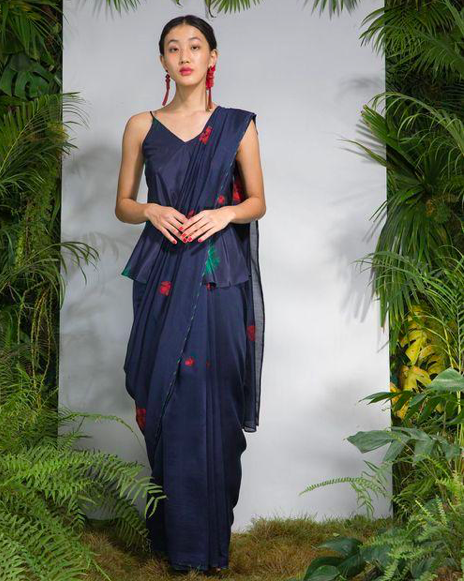 A saree that is inarguably defined as a striking delight for the eyes. The minimal embroidery on this midnight blue buttery chanderi is to die for. It bursts fervour, for the coming festive season. Unleash your creative side and experiment with accessories. However, you can also keep it simple with a tight bun, works both ways. 
The fashion industry is evolving at a breakneck pace to include the latest saree trends. Check out the best saree styles and trends from brands like Nicobar and select what aligns the best with your personality. This premium brand believes in culture as much as commerce. The women's wear edit of Nicobar is inspired by international runways and exemplifies style, class and grace. Add them to your cart and get the connoisseur's most elegant choice delivered to your doorstep.