One Billion Rising 2019: Delhi rises to end violence against women once again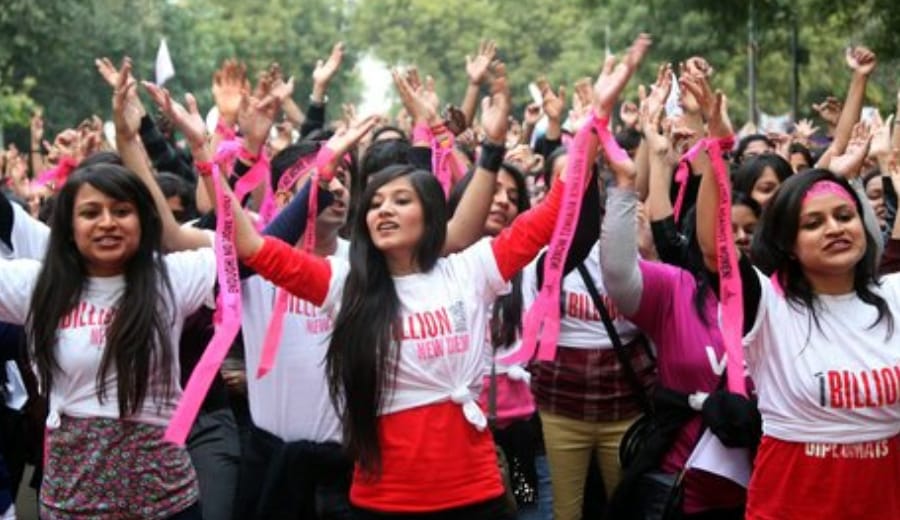 This 10th of February 2019, Delhi celebrated a magnificent event: One Billion Rising, the biggest mass action to end violence against women (cisgender, transgender, and those who hold fluid identities that are subject to gender-based violence) in human history.
Talking about its history, One Billion Rising is a global campaign launched in 2012 by Eve Ensler, (the author of The Vagina Monologues) to end violence against women and girls.
The main event is usually on the last Sunday before 14th February worldwide, although there are other events before 14th February.
Women have been fighting for equal rights for generations, for the right to be free from constant scrutiny, the right to control our bodies and the right to equality. And these battles have been hard fought, but we still have a long way to go. Women like Eve Ensler, Kamla Bhasin and all those who are fightling fearlessly for women rights are our greatest strength. We definitely need women like these in every corner of our nation and events like OBR for giving women the opportunity to voice their opinions. 
The OBR campaign is basically a call to come together in consensus and stand against the systemic problem of growing violence against women all over the world. The 2019 OBR theme is "Rising: From A Campaign, To A Way Of Life." RISING TO END…Rape, Battery, Incest, Sexual Harassment, Female Genital Mutilation (FGM), Sexual Slavery and Trafficking, Child Marriage and various other evils that still plague our society.
To witness this global movement, people from all over the world, came together this Sunday, 10th February, at Central Park, Connaught Place, Delhi which turned out to be a huge success. The event started off by rolling to the drum beats of Delhi Drum Circle, followed by skits on gender violence and dance performances by young students of JDMC, LSR and NGO's like Azad Foundation and Womenite. The energizing street Play performances by Girls of LSR and Miranda house doubled the enthusiasm of the crowd. Three poets from Your Voice, a platform for poets, also presented their empowering poems.
The Event was taken to another level by a famous activist, Kamla Bhasin, when she recited her AZAADI poem and left the audience spellbound.
Ms Kusum, President of All India Network of Sex Workers (an organisation of Sex Workers by Sex Workers for Sex Workers) also spoke about, how we engage people with Sex Worker's movement. The event turns out to be the perfect example of "Power of Youth" and "Women Empowerment" and was a huge success.
Let's take a look at some of the enthralling images from the events and activities, this year here and the videos below:
1. That's what women want: AZAADI, from all the stereotypes
Very beautifully defining this through her brave composition is Ms. Kamla Bhasin, a famous female activist.
2. Delhi rose with SMS Group (Children's Performance).
Watch "Kudrat ke sab bande hum' which promises to urge us all to be an inclusive society. It's time that we let children be free to explore both the feminine and masculine parts of their nature as they grow up.
3. The Josh went really high, when Sadaf Khan took over the stage.
Her words encourage us to speak out for your dignity and stand against violence. Sadaf is a lecturer at Amity University and is also a Social Worker and runs a voluntary organisation called Aagaaz.
4. HEAR Priya Sharma – a 3rd year student from Lady Shri Ram College for Women
Isn't she slaying with her heart-touching poem "Main Aurat hu, Zara Jaldi Behak Jaati hu"?
5. Sabika Muzaffar, Former RJ & Radio Producer at Radio Mirchi
She totally carried forward the rendition by her glorious poem. It's a piece of her, not a piece by her; a sharp piece that hopes to pierce through; "मोहतरमा पुछ रही है, सब खेरियत?"
We definitely need more events like these to give voices to ideas and opinions of young women.
————
ABOUT THE AUTHOR: This article is written by Shreya Kohli, our intern.