Meet India's Very Own Rihanna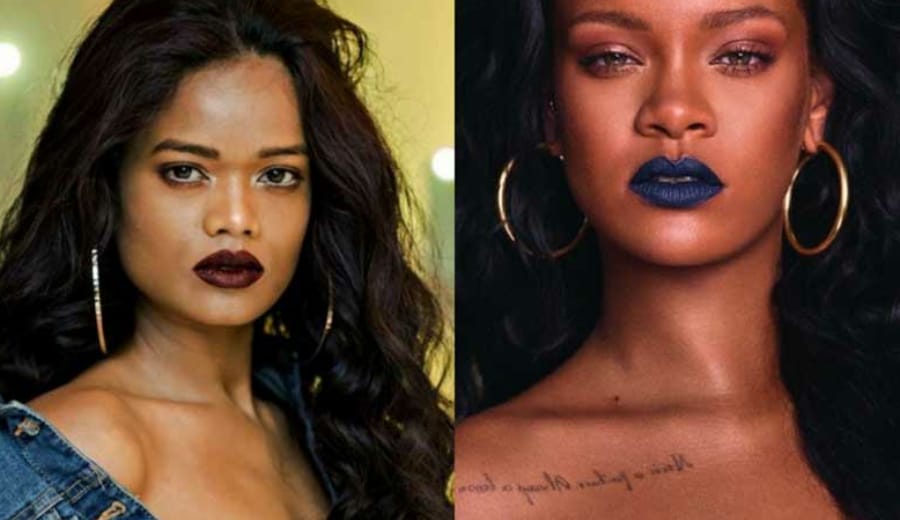 It is truly well said, that "the beauty lies in the eyes of the beholder."
This model with chocolate skin, stunning eyes and full pout has hit the headlines that make her a doppelganger. Hailing from the Jamshedpur district of Chhattisgarh (India) this model is transgressing all conventions of being a model in the fashion industry.
Renee Kujur, a Delhi based model's pictures resemble Rihanna and this is making her an internet sensation. This resemblance has given her a boost in the modelling career and wiped away some of the humiliation she faced initially in this industry.
Renee Kujur has recently appeared in MTV's Supermodel of the year. Speaking to the media Kujur accepted that the photographers would tell their clients that she have a very strong resemblance with Rihanna. That way it was easier to convince them because no one could deny the beauty of Rihanna.
In the personal session of MTV's supermodel of the year, Kujur says that she started her journey in the modelling industry at the age of twenty-eight. She says that she feels confident in her age and this gives her a positive outlook and attitude towards life. She does not regret starting it at the age of twenty or so. Her parents support her and motivate her to aim at higher and to achieve her aim and goals in life. She comes from a very middle-class family and spends a lot of time looking after her family and supporting them. According to Renee, her confidence in the skin type she has, adds to her positive attitude towards life. She is working towards a cause which would help people to know that beauty not linked to a particular colour.
Now a resident of Delhi, Kujur faced endless rejection just because of her dark skin tone and was even ridiculed for her unconventional facial features. When she started her work in the fashion world she was made to feel small and was not given a chance at times because of her skin tone. It is only after her constant struggle and determination to succeed that she has been able to achieve a place in the fashion industry by breaking all stereotypes.
This gorgeous, young and confident woman with stunning dark chocolate skin is standing tall and bold against all the conventional features that people think a beautiful woman should have. She is indeed an inspiration to all the women out there and especially those who are not confident in their dark skin tone.
We, at RESPECT WOMEN, salute such positive and influential women who stand out by breaking the conventional societal norms and inspire others to feel good about the way they are.
————
ABOUT THE AUTHOR: This article is written by Prashant Kumar, our intern.