After The Launch Of 'THAPPAD' Trailer, Twitter Calls It A Slap On The Face Of 'KABIR SINGH'
The trailer of the upcoming film "Thappad" directed by film director Anubhav Sinha is out, and Twitterati's can only find it a tight smack at Kabir Singh's producer Sandeep Reddy Vanga. 
While there's no second thought that the trailer is interesting and supremely captivating, it's additionally prompted a comparison to the film Kabir Singh on social media. Kabir Singh, an aggressive man who was even violent with his love interest, was defended by its director who believed that a 'little bit of violence' is an emotion in any relationship. Indirectly he generalised every relationship to be toxic and violent at some point. 
When his breakout film, Kabir Singh, had become the most talked about movie in the country, Vanga said, "There's lots of sincerity in it once you are deep into love and deeply connected with folks, and the other way around. If you don't have the physical display and have no right to hit one another, I see nothing in it."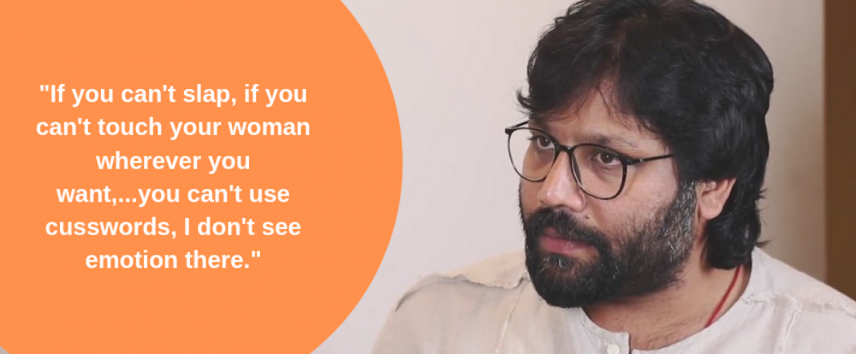 His remarks didn't go down well with many individuals. This happened almost a year ago, yet netizens remembered the entire contention in the wake of viewing the trailer of "Thappad".
The trailer of Anubhav Sinha's Thappad, featuring Taapsee Pannu discusses the issue of abusive behaviour in a marriage, with a specific spotlight on how rough conduct is justification for divorce, independent of the occasions it occurs. Regardless of whether it is only 'one slap', it will still be termed as abusive whether at home or at a cinema hall or on a public bus. A slap remains a slap and it is to be condemned.
For fans, this was an ideal chance to draw a correlation and point out that even for the sake of adoration, brutality isn't satisfactory.
Taking to her social media, Taapsee too posted on her twitter handle:
Haan Bas Ek Thappad… par nahi maar sakta!!!
Thappad, created by Anubhav Sinha and Bhushan Kumar, will discharge on February 28. The trailer got an amazing response and lots of love on social media. After seeing this banter, the movie should easily cross the 100 crore mark. So to everyone out there who felt it as a normal thing in a relationship after seeing the slap in Kabir Singh, be ready to get a THAPPAD.
————
ABOUT THE AUTHOR: This article is written by Snehil Patel, our intern.