Salman Khan Is A Male Chauvinist Pig Who Dances Like A Monkey: Sapna Bhavnani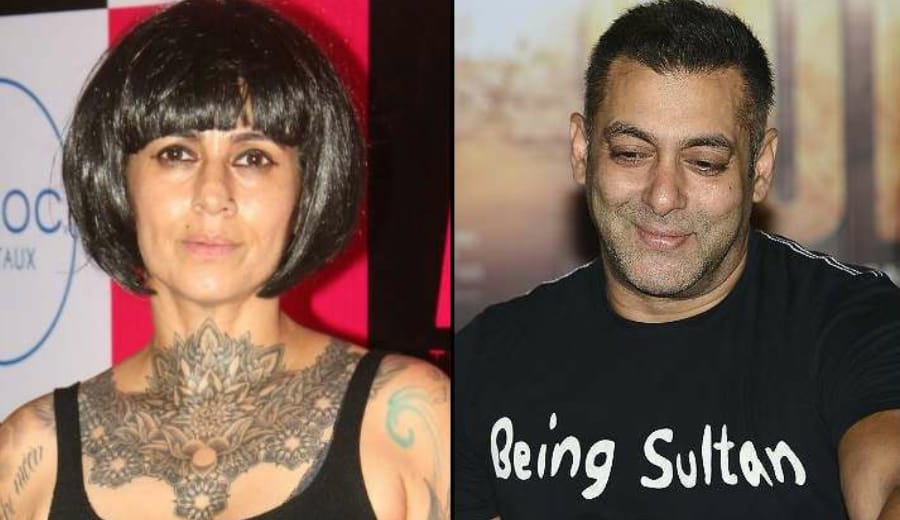 In an industry driven by the star-system, not many gather the courage to talk against the elder Gods who get to call the shots. Talking about Sapna Bhavnani, she is fierce. She is not one to crumble her words, even when she's talking about Salman Khan. The hairstylist and owner of the Bandra-based salon Mad o Wot has spoken out uninhibitedly against Khan, whom she famously didn't get along with during her stint as a contestant during the sixth season of the reality show Bigg Boss last year. She had reportedly called the actor a 'serial woman-beater' on the show, but the channel had decided against airing those bits. In an interview with Hindustan Times, Sapna shared her experience in Bigg Boss, which was then being hosted by Salman Khan:
"(It was a) fuckall experience. You have a male chauvinistic fucking pig as a host of this fucking show, that insults people, so people watch the show, andpeople worship him on the show because people want a job in one of his stupid fuckall movies where he dances like a monkey – that's Big Boss in a nutshell."
Regardless of Sapna's experience, she achieved what she intended.
"They had been after me for the longest time. I had just come back from Europe and they were harassing me like, "Please come on the show." So I asked my mom that these people have been after my life to be on the show, "What should I do?" My mom looked at me and she was like, "You know, Sapna, women like you would never be represented on Indian TV. It's very important that you go on the show. You need to show the people of India that there are women like you in this country, women who have a voice, women who can't be bought by money, women who can't be bought by fame." She made sense, I went, my point was taken, my job was done."
She was trolled incessantly by bhai fans when she tweeted about Salman Khan's rape comment during the promotions of Sultan, but didn't let that stop her.
"It's insulting to have an Indian man talk like that on an international platform. I am embarrassed to call myself an Indian when statements like these go out worldwide. I was very vocal about it on Twitter, and everywhere. I got a lot of flak for it, but flak or stalkers and trollers should not be the reason why you should stop voicing the truth.
It's (comments on Twitter) insane, if you read some of the crap that was written… you'd know. Before I started blocking them, I was reporting them to Twitter, my point is to get them off Twitter, but when twitter was also not taking necessary action, I had to block them, because I couldn't let them affect my mental health. These guys are hired by the Khan and political parties… these people have zero followers, but everyday they come to slam you."
Sapna Bhavnani was gangraped when she was 24, and she has decided to write about it in her book that is to be published by HarperCollins.
"I still don't know, if I have the guts to talk about my rape, but I can start a new chapter one of my life once it (rape) is out of the system, so there will be a chapter on that too."
However, she has said that there will be no mention of Salman Khan in her book.
"This man really misuses people and I don't have to give him importance, especially in my book… I was warned that you shouldn't talk about him like that because you could get killed, and I was like, "What!" I had heard rumours,but I have been channelling this 'no fear' thing for the past four years and I am not going to let a monkey scare me. I have been through a gang rape, I know what it feels like, I am a surviving member, there is nothing worse you can do to me really."
It goes without saying that we're really looking forward to Sapna's literary debut.