Plight and Prostitution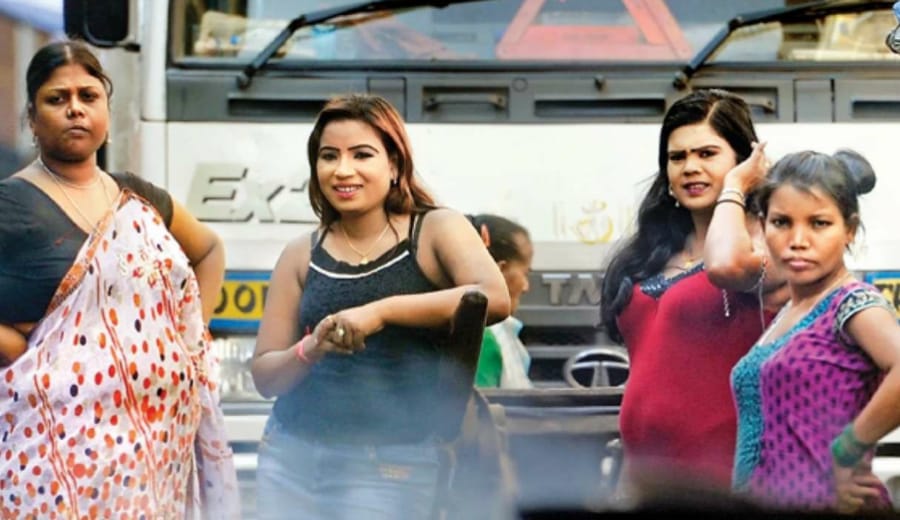 Amongst the glamorous crowd and the glitter of fame, she is just presented as a physical bait for this lavish middle to upper class who lust the stroke of a body. Her feelings don't matter to this materialistic world nor do her customers ever fall in love with her, because in her world love doesn't exist. She is judged just by her helplessness or by the work she do to fill her empty stomach. She is called by different names like whores, sluts and what not. But people like her are declared as misfits for living amongst a respectable society and deprived from all rights. But the  society forget that they are humans with feelings too and they never chose this life.
Sex industry is the fastest growing industry(explicit) in the world and India. Its business is at boost as it grosses $100 billions per year. There are several prostitute hubs in India basically recognised as red light areas such as Sonagachi ,Police line, Meergunj(Allahabad)Tilwala, G.B road etc.  On Aug. 3rd 2011 Supreme Court of India directed all the states to come out with schemes of rehabilitation of the sex workers who are willing to quit flesh trade. But the Government has now basically forgotten these people and no amendment now speaks of their welfare whereas they form a major part of the population and have equal rights like us, but as usual they are ignored with the view that they are just "misfits". Some people are of the view that if all these sex centers and prostitution is legalized then many problems can be solved but it won't end their misery and the sex enslavement. In these hubs of flesh business, more than being physically tortured till the lust of the customer is fulfilled, these girls suffer from a mental trauma which is cataclysmic as they bear no loved ones with whom they can share their misery. In these red light areas one can see such young girls  pleading to men to rent their bodies within the dim lit areas which comes alive after the night has fallen. You won't find any happiness in their faces as most of them are not willingly into this business. No girl ever dreams of renting her body for quenching her hunger. Prostitution eventually arises from poverty,lack of education and awareness,domestic violence,child marriage,unemployement and unsafe migration. To an utter shock 35% of the sex workers in India are minor girls. So our country beholds 1 million child prostitutes and our country tops this list too.
Every month a girl child is kidnapped from every part of our country and forced into this slum of lusty bodies. I would say these people are not sex workers, they don't work for good. They are slaved behind these dark cold walls with dim lights and scents and music. India being the largest hub of this industry, also has an obsessiveness for movies portraying prostitution and the sex industry. Many movies show the actual scenario and the misery and pain and the want for freedom of these helpless girls but many movies show a totally different era of these places. Few movies are Astha,Meenaxi,Laga chunri me daag,Chameli,D-day,DevD,Devdas,Talaash and  Maradaani . In many movies they are shown as respected personalities too and the reality of police, politicians and bureaucrats who are being involved in this business. Many girls want to break free from these dark mystic lands of hallucination and lust but are caged out of their will in these slums. These brothels are everywhere in every part of India. They run in mega and metro cities ,in slums and in hotels too. They are illegal,legal,obsessive,hated,loved everything but one thing is forgotten,humans reside there too.
So all in all this shows a sign of respect for them and a message that they have the right to live a life of dignity too without selling their flesh and no one can stop them. As a developing nation we should learn to accept the darkest realities of life and welcome them with open arms to live a free and happy life as life shows many sharp turns to everyone, but the one who get over it are real winners. In a country like India where women are kept under veils to protect their dignity and as a symbol of strength, it's a shame and irony that brothels exist. They give birth to life and are an integral part of the developing world. Quoting Dr. B.R Ambedkar ,' I measure the progress of a community by the degree of progress which women have achieved.' So where do we stand now? For the youth population like us,we can take initiatives and help improving their lives and give them chance to breathe in the free air again.
—– About the Author: The article has been contributed by our intern, Rupsha Bose.