Gully Boy Song "Azaadi" Was Probably Inspired by Kamla Bhasin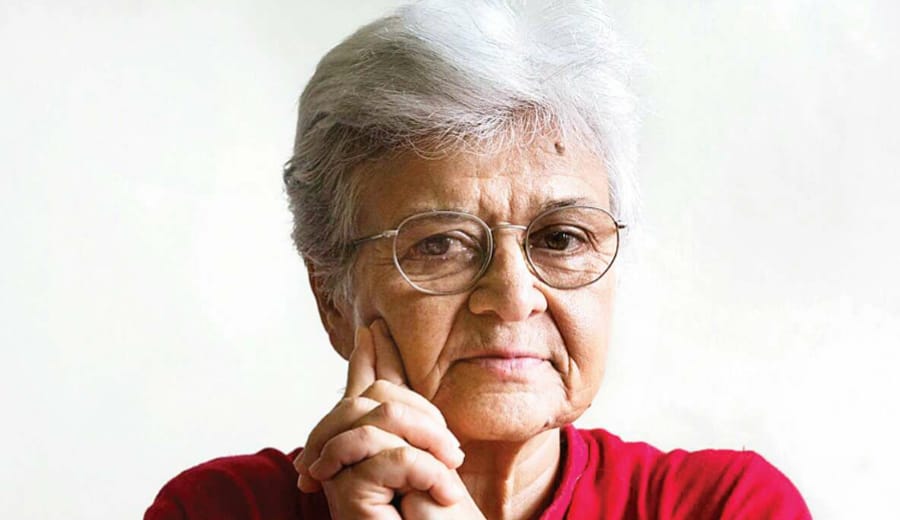 From JNU students – 'Kanhaiya Kumar' and 'Umar Khalid' chanting it and facing trial for the same, to Ranveer Singh rapping about it in his latest movie Gully Boy, the word "Azaadi" has become very popular.
However, most people may not know that much of the credit for this goes to Kamla Bhasin and Pakistani feminists. 
For those who don't know about this awe-inspiring woman, Kamla Bhasin is a feminist activist, poet, author and social scientist who has dedicated almost 40 years of her life, fighting for equal rights.
Best known for her poem "Kyunki main ladki hoon, mujhe padhna hai", her "Azaadi" song and her work with Sangat – A Feminist Network, this woman never fails to inspire me.
Back in the 1980s, while working for the UN, she travelled to neighbouring countries. Pakistan at that time was led by General Zia-ul-Haq. According to Bhasin, Pakistani feminists were the first group to rise up against Zia-ul-Haq and in one of their meetings she heard the chants: 'Women want azaadi, children want azaadi, we want our azaadi'. 
As reported by The Nation, in 1983, it was realized by Pakistani women that they have to protest against the General's 'Islamization' process. This process was discriminatory and denied women of their basic human rights. During this struggle, the chant first came into existence as the women started chanting it in their homes and on the streets. The chants symbolized their demand for equal rights.
On 12 February 1983, the protests in Lahore led to the police baton charging these women and using tear gas against them. Presently, these protests are seen as a landmark development for the feminist movement in Pakistan as they played a major role in developing a base for the women's rights organisations and movements in the country.

 
Cut to when Bhasin came back to India: she recognized the power of these words and chants and moulded the slogan as per the Indian problems and issues. Most recently, this slogan has made it to Bollywood. However, is the sentiment behind it still the same?
In Pakistan, this slogan wasn't made to appeal to the masses as a catchy line; it was made by women fighting for their equal rights. It was a medium to show that they won't tolerate the discrimination anymore. It became a symbol for this movement and Bhasin brought it to India to inspire similar feminist movements here. It represents these women's fights against patriarchy.
As for the JNU students, the slogan was used in a protest against the capital punishment given to Afzal Guru. But this was soon interpreted as 'anti-national' by many and the students were accused of sedition. Again, the word azaadi was a tool in the protest and not just some line without any weight behind it. 
Coming to Gully Boy, the movie has used a very watered-down version of the slogan. All reference to patriarchy, casteism, and Brahmanical oppression were taken away. The co-producer of the movie has also applauded Prime Minister Modi.
Now not getting very political here, but BJP is the same party that played a major role in attacking the JNU students for their 'anti-national' slogans; so, as a feminist, it is hard not to feel dismayed by the use of the slogan in the movie without its original spirit.
It is true that nobody knows for sure if the song was inspired by any of these movements. Kamla Bhasin remarked, "If they have learnt it from me, then it is great, I have borrowed it from Pakistan."
————
ABOUT THE AUTHOR: This article is written by Aditi Garg, our intern.