50 Reasons Why One Shouldn't Marry A Bengali Woman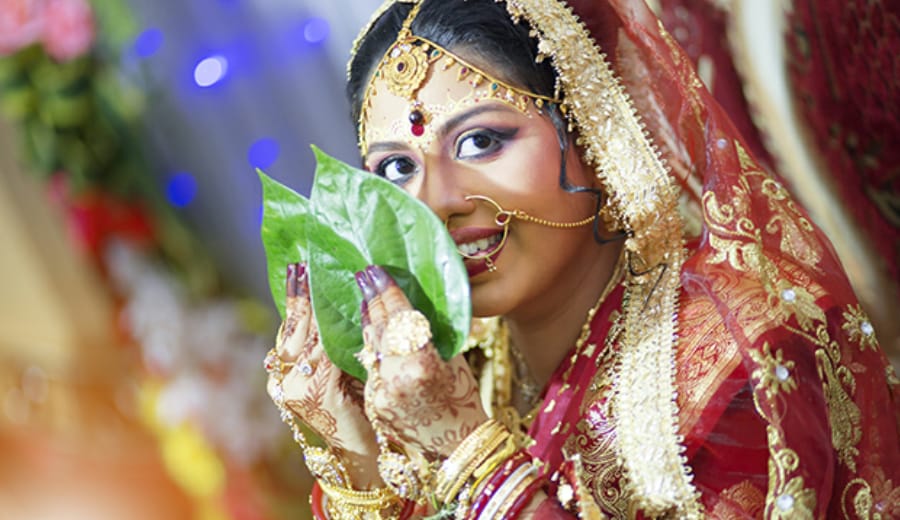 With all due respects to Bengali women reading this, I'm posting the article that was published in The Telegraph of Calcutta (don't know why this magazine do not use Kolkata). You people only can tell us how far this is true.
50. She expects you to write poetry about her eyes. Or at least to be able to recite Bonolota Sen (where she is that beauty) and pretend that you mean it.
49. All expressions of love must be accompanied by Tagore in his various moods. And if you can compare her to a Tagore heroine, even better.
48. Her English is better than yours. And she will never let you forget it.
47. She will fight with you but treasure all signs of being married to you. So she will wear that shankha pola and sindur with jeans, and that gold-covered loha with her cocktail dress. She has adopted the mehndi and chooda too. And the mangalsutra is a must slip-on every time she steps out of the house.
46. And yet for all the fighting, her "modern woman" airs are gone after marriage. "O bolechhe" is the final word then. In private they snub, in public they idolise to an uncomfortable degree.
45. She tries too hard not to look Bengali. She will never have the Punjabi oomph, or the south Indian sensuality. But she will persist in trying. What's more, she will tell you with a big smile that so and so storewala thought she was a Punjabi today. Contradict at your own risk!
44. Like the accomplished women of Pride and Prejudice, they all sing Rabindrasangeet and Nazrulgeeti, dance, paint and recite poetry. God help you if she takes her talent seriously.
43. She will never get along with your mother. It is a matter of principle.
42. They will pet and spoil their husbands like overgrown babies and then they'll ask you not to be a mamma's boy. The truth is they'd rather you be a "wifey's pet".
41. They hate being second to your mother but are still far too controlled by their own mothers.
40. They remove gift wrappers for hours and then preserve the paper under the mattress. If she had her way, she would keep the sellotape too.
39. She won't leave a single mirror free of stick-on bindis.
38. Her brown nail polish, and brown lipstick.
37. Her "practical", "comfortable", "soft-soled" and not to mention ugly shoes designed for painful feet. Also her ugly platform heels and boxy block heels.
36. Her half-cup cha. Half cup or one, it takes the same tea to make. Why does she persist in asking for half?
35. Her unwillingness to drive but constant requests for being driven around.
34. Her cotton printed maxis. Or the way she drapes a dupatta on it to get the door.
33. After marriage, she will stop asking you if she looks fat. And laugh if you tell her so.
32. She thinks her FabIndia/ Westside/ Pantaloons kurti hides her flab. And that a leisurely stroll in the morning will get rid of it.
31. She will pester you to try tangra and gule fish while you want just chingri malai curry.
30. Saris are a must on all occasions and most unattractive at times. It's invariably ataant or a dhakai in the mornings, which fluffs up around her already generous middle and makes her look dumpy and unsexy. It isn't as sexy as a crepe or vibrant as a Kanjeevaram.
29. She will make you bend in front of her and fix her sari pleats, although you have no clue how to, in a manner that is in equal parts helpless and in equal parts authority. Only she knows how to do that.
28. She says eeshh… but it can get very hissy depending on her mood.
27. She dives for the weekly magazine and hides it somewhere until she has finished reading it. And by then it's time for the next week's edition.
26. The overpowering smell of coconut oil or other hair oil the day before they wash their hair, is enough to make you wish you never fell for those lustrous locks.
25. Or worse, they use henna in their hair, and leave everything from the bathroom to the pillowcase smelling of mehndi.
24. She will force you to make the morning tea and the afternoon tea on weekends. Unlike a proper Indian wife who'd know that it's her job to do so!
23. Granted, you wouldn't want a Mayawati. But do you really want a Mamata Banerjee?
22. You really don't want a Bengali mother-in-law. Says blogger Jo: "They will feed you enough shorshe maach and bhaat to make you fat, then complain that you are putting on weight, question your virility and their plans of becoming a grandmom soon".
21. She will gossip. She knows who you checked out at work, or who is more favoured by the boss.
20. She is dominating. She will control the colour of your underwear if she had her way.
19. She takes possessiveness to a new high. And gives it new meaning. A few women having a crush on the boyfriend is an ego boost… but god save the husband if he is caught being chivalrous to any woman.
18. She's suspicious. As a mother she will check your phone bill to see how much you've spent on talking and texting your girlfriend. As a wife, she will still do it, to see whether you are in constant touch with that hot colleague.
17. They don't like sports. And have less patience than most of her tribe with the sports channel. So what if you were the local para champ in your youth!
16. She prefers stability over risk. So she wants you to settle for a fixed deposit over the stock market and a good MNC over a "start-up with possibilities". And then complain when those risks taken by someone else pay off.
15. There's a stark contrast in her, pre and post marriage. So your wife will not be the woman you dated. 14. Her son will always come before you.
13. In the train/bus/plane she will expect you to give her the window seat. If there is just one, your son/daughter gets it.
12. She will spend her life obsessing about her pet and later her son/daughter. Also her bonsais and cacti. And she expects you to do the same.
11. She will expect you to help with the children's maths homework. Even if she is a science graduate and had three papers in maths.
10. She must feed the kid during a 16-minute Metro journey and she will preserve a half-decaying, smelly banana for the purpose. As if the kid would get malnourished if the feeding happened 16 minutes later!
9. Same for the classwork/homework notebook. They have to be pulled out and scrutinised right in the middle of a crowded Metro compartment.
8. The really beautiful ones leave for Bollywood. The ones who are left behind are not worth marrying.
7. She is supposed to be a mix of Bipasha's oomph and Konkona's intellect. Wake up, kid!
6. What's with the bad dancing when drunk?
5. The modern Bong woman often smokes more and drinks more than her husband. But it doesn't mean she is liberated.
4. She might be travelling the world, but she is still papa's little girl. And no man compares to her Daddy to find a place in her heart. She will always be daddy's lakkhi meye.
3. She's sexy. There something about those eyes and the dusky skin. She looks like she has promise. But she seldom lives up to it.
2. All you can do is ogle discreetly. She is a firm practitioner of mind over matter. She's the quintessential tease.
1. And yet, despite it all, she is just too good for you. Sorry men.
Disclaimer: www.respectwomen.co.in is a platform where writers can raise their voice. All views expressed herein are solely of the writers'. We don't mean to offend anybody's sentiments.