Why must 'WOMEN' dress appropriately?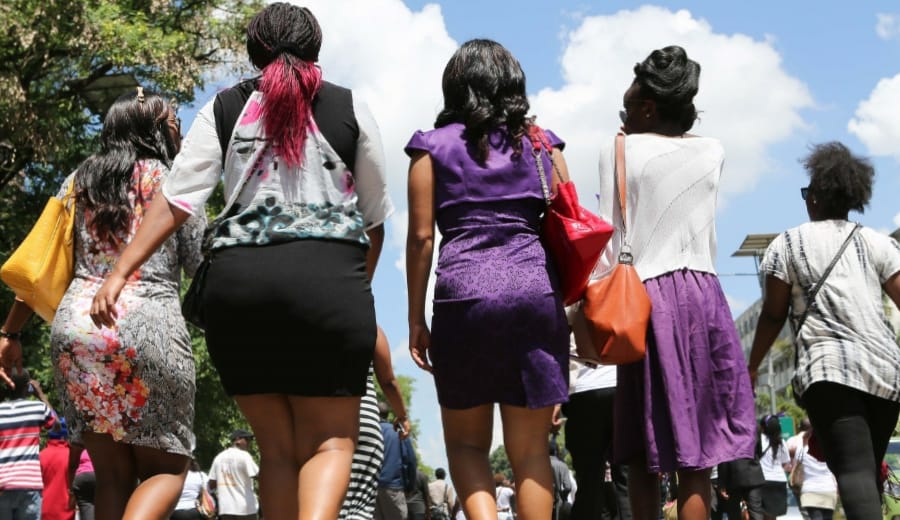 Just because I wear shorts, does not mean I'm available! Just because I wear sleeveless, does not mean I want you to stare at me. Just because I wear a short dress, does not mean you can pick me up. So what if I wear shorts or a dress or sleeveless or heels? Why can't you just look at your own shoes and stay where you are? Frankly speaking, Men don't even need a reason to misbehave with a woman in this country. No matter, what a woman wears, even whether it's a sweatshirt or an extremely lose rock band T-shirt, men will continue to stare at their breasts. And a lot of them don't even know why?
If we won't wear party clothes to a party, then what do you expect us to wear? Dhoti's? But yet, we are eve-teased by the drooling dogs. Whether it is night or day, they still eve-tease us, stare at us and sometimes even approach us in a ridiculously disgusting manner. Some whistle at us like we're dogs, and some comment while we pass by. How much will they continue to objectify women? Nowadays, everywhere you see, people are talking about how women should dress appropriately, even men, but the ratio is rather large when compared. Why must WE dress appropriately? Why can't the men just have their brains twisted? When will we be able to wear whatever we want, say whatever we want and do whatever we want? Just because we wear short clothes, that does not make us a "prostitute". We're human beings and we demand for our right and respect because we deserve it! Whether you're in college, school, and working or even old, men still rape. Then, the only point they have, to defend them is that the woman was wearing provocative clothes. That isn't just ridiculous but beyond stupidity. Is that the best they can come up with to defend themselves? How can a 3-year old girl wearing provocative clothes? Well, no, we should be able to wear whatever we want and still be able to be treated like human beings outside our houses. Sometimes, our families also provoke us to wear "appropriate" clothes. Is it only because they fear what the society will say about their daughters? Or is it also because of their fear towards how men will treat their daughters? If I had a daughter, I would allow her to wear whatever she wants, but I will prepare her to defend herself if she is harmed by the monsters. Clothes should be limitless. Just as these huge Clothe brands like Levis, Zara, Mango, Jealous 21, etc. advertise various western clothes for women, then why are we eyed wrongly when walking down the streets, wearing branded clothes?
Certain TV shows also illustrate to us how women must wear particular clothes to hide the fat areas of their body, but I say, wear whatever you want. Why listen to someone else, when you know yourself and your body best? So what if you're fat, that sure doesn't make you are less human than those twiggy supermodels right? You don't have to be skinny to look prettier. So, all you men out there who are reading this, stop jumping onto conclusions about women based on the way they're dressed, every woman does not want to go to bed with you. And for all the women reading this, wear whatever you want to wear, but be strong enough and revolt if someone has anything to say about what you wear, because How we 'Dress' does not mean, 'Yes'.
————– About the Author: This article is contributed by Sonia David, our Intern. Sonia is a funky and sweet girl who is currently pursuing her Bachelor of Arts in Communicative English from Jyoti Nivas College, Autonomous in Bangalore. She loves writing, sketching and reading. She believes that women deserve much more and together, women can turn the world right side up!