Whatcha' staring at?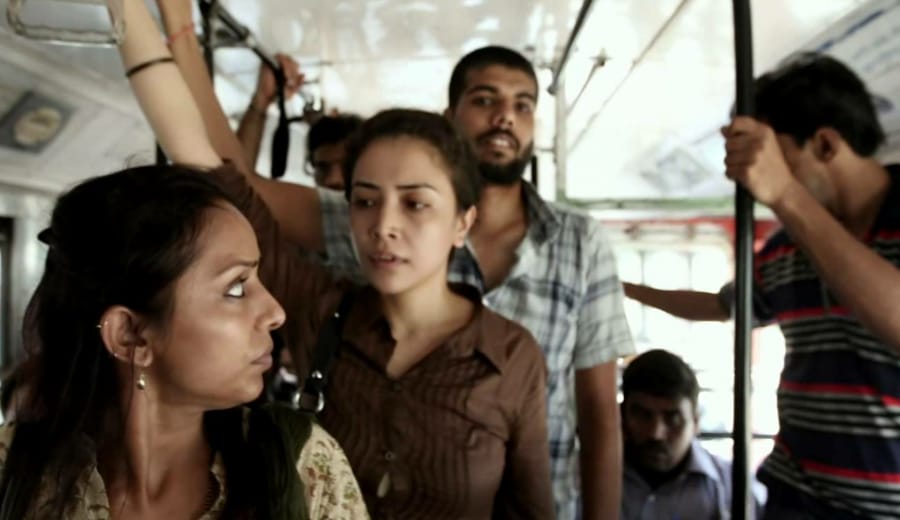 'Frustrated of eve teasing, a 19-year-old girl commits suicide'. 'A 14-year-old-girl subjected to teasing in broad day light while returning from school.' Every day we come across such headlines in the newspaper. Most of the people ignore it because may be it's not their mothers, sisters or wives who are degraded or may be it has become a routine  for women to become a victim of eve teasing in all public places . We call it a modern era but it is shameful to say that women are still trying to break the shackles of this dominant patriarchal society.
WHAT IS EVE-TEASING ? Eve Teasing is an offensive expression for molestation or harassment of women in public areas. It is not just passing sexually assaulting remarks but it is a term far wider than it's name. Eve teasing is a complicated issue. But the question is why hasn't it got the special attention it requires? May be some questions are meant to be unanswered. Eve teasing is a part of gender discrimination. And gender discrimination starts from nowhere but from home. Right from the childhood, girls and boys are given a different upbringing. Girls are never able to assert their independence. They are always treated as incapable of protecting themselves whereas boys are given full liberty to make their own decisions. As a result we end up forming a little patriarchal society in our homes too. It starts from home and ends up in work places, offices etc. The major chunk of the society is responsible for this evil practice. Ironically, people blame girls for their short clothes. Parents restrict girls from wearing whatever they want but they can't teach their sons to respect women.
Eve means temptress – the one who provokes or tempts males for verbal violence and vulgar behavior. Ridiculously, it means that women are the creator as well as the sufferer of their own problems. It began in 1970 when eve teasing caught media attention. Indian government took certain measures to curb this. But there was a marked increase in the number of women coming forward to report cases of sexual harassment. It is pitiful that most of the cases go unreported for the fear of exposure of public shame. But here are certain questions which go unanswered…….
  Why can't girls wear whatever they like?
  Why can't they live their life to the fullest?
  Why can't they step out of home at any point of time?
  Why can't men be taught to respect women?
  Why can't they make their own decisions?
THE TREND IS CHANGING. PEOPLE HAVE RAISED THEIR VOICES AGAINST THIS MENACE. BUT STILL A LARGE PORTION OF POPULATION BLAME GIRLS FOR THEIR SUFFERING. A RANDOM SURVEY SAYS THAT MORE THAN 90% OF THE WOMEN FACE THE TRAUMA OF EVE TEASING EVERY DAY.
How to protect yourself from eve teasing?
  Carry a pepper spray with yourself. If not pepper spray carry pain reliever spray. They are more effective than pepper spray.
  Carry pen-knives or sleek blunt knives. They really help a lot at the time of mishap.
  If you don't have anything to protect you, use hair pins or anything you have worn like strings, chains or heels.
  In several metropolitan cities, self defence programs have been initiated by several NGOs. They offer basic training in martial arts or karate.
  If you become a victim of it, raise your voice and report the crime. The more you ignore, the more you will have to pay in future. Silence Is not a good option. Fight back is essential.
  Do not ignore any lewd comments passed by any stranger. Give them a stern look so that they don't dare to do it again.
  Many NGOS are organizing awareness programs and street plays to alert everyone and inculcating the need for change in the mindset of the Indian society.
Need for change- There is a solution to every problem. Often parents blame their daughters if they fall in the trap of eve teasing.A woman is the most beautiful creation of god. Parents should realize that they are blessed with the most beautiful gift of god. Change starts from mindset but it is successful if it is implemented too in every aspect of life. Girls should try to fight back on their own. Don't be afraid of public humiliation. They talk and then they forget. You should walk with such an attitude so that everyone knows that you are gonna explode not implode. Be alert, stay safe. And always remember  to say Ab bas aur nahi!!
— About the Author: The article has been contributed by our intern, Vandana Chawla.