Shweta Katti: Escaping the hell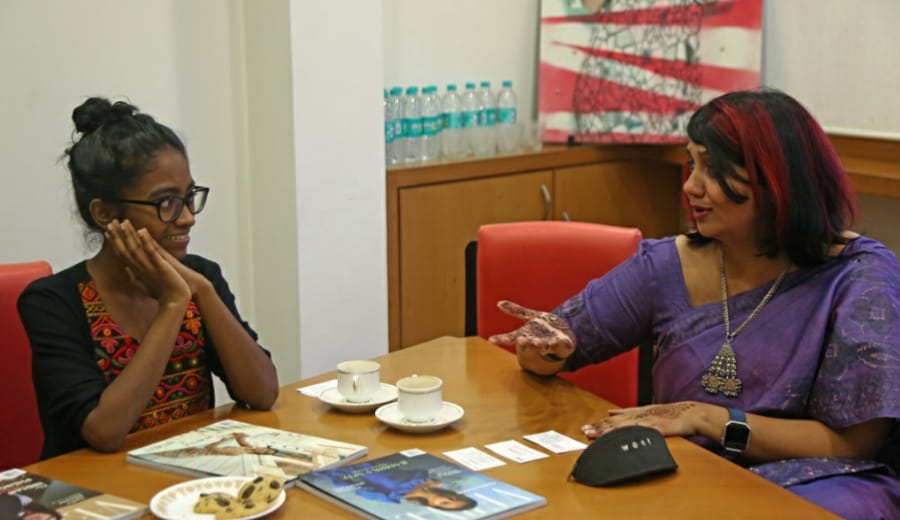 Shweta Katti, a girl from Mumbai's red light district of Kamathipura, is one of those who were rehabilitated by an NGO called 'Kranti' that works towards rehabilitation of girls from Mumbai's such areas and is the brainchild of Robin Chaurasiya. She was introduced to Robin as a budding child and when asked about her goals, she said that she wanted to study.  Shweta's grandfather ran a brothel and left the world impecunious leaving her grandmother pregnant with her mother. They had no source of livelihood hence under unknown circumstances Shweta's mother became a Devdasi. Her mother had an affair with a man whose marriage was arranged, so she could not marry him. But she wanted a symbol of their love and that's how Shweta was born. Years later they (Shweta and her mother) met a man in Mumbai who was willing to give mother and daughter shelter. That man had a last name Katti whose name she now carries. For most of her childhood, Shweta grew up thinking the man in the house was her father. But something did not feel right. Every day there was fighting, abuse, and beating, but that was her only world. It was her mother who jolted Shweta from her complacency. She ensured her daughter went to school. It was Radha, a sex worker and a neighbor, who one day sat down with Shweta and explained to her exactly where she would end up if she did not study. That was all that she needed. From that day Shweta worked hard. Spending her childhood in a brothel, she says, was tough. "At night I would hear the sex workers getting beaten up by their drunken husbands. No one respects you when you are in this profession. It is highly unsafe for women and young girls to live in a brothel," Shweta said. Regardless of innumerable pitfalls in getting a passport and securing funds for her education, Shweta made it to Bard College last year to pursue a degree in psychology.  She wants to graduate in psychology so she can return and help others like her. Since then, she has used various public platforms to speak on how to overcome adversity, and has emerged as an icon for youngsters in similar circumstances.  She has also been selected by the United Nations Special Envoy for Education for the Youth Courage Award, given to girls from around the world for showing exemplary courage in promoting the cause of girls' education and dignity of women. All the best Shweta!!!
———— ABOUT THE AUTHOR: This article is written by Nandini Gupta.