Meet the Foot artist, Sheela Sharma!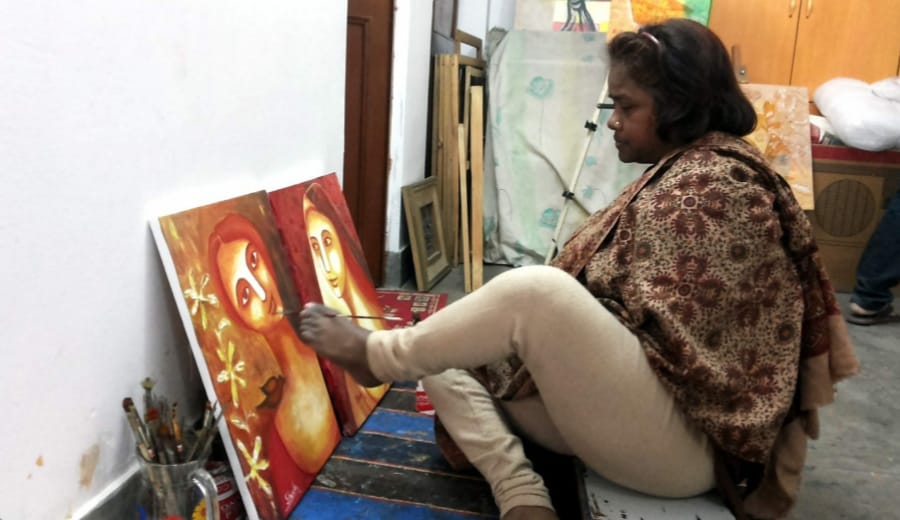 Sheela Sharma is ordinary in many ways but she does have that one thing that makes her a star.
The 46-year-old is often described as a 'foot artist' because of her talent. When she was four, Sharma lost her hands and almost a foot in a train accident.
While studying at a boarding school in New Delhi, she came across an artist who used to paint sans hands. And that stayed with her. It stayed for a long time to be able to inspire her and it did. "I started drawing and painting in school with my foot and to my surprise I always was appreciated. My teachers and classmates praised my skills. I even was awarded for my talent in school. That was just the beginning," she said.
The artist paints the canvas unusually and she doesn't have any qualms about it. Probably, that is the reason she has been able to enhance her talents and discover herself. However, Sharma did face criticism. People found her way of painting strange and even told her that she cannot continue to paint the way she did. They also told her that it would not take her anywhere. But the artist took everything in her stride and fought against all odds. She went on to do her bachelor's degree in fine arts from Lucknow University. Sheela made a lot of friends through her work and even covered up for other girls in school.
"Apart from my own work, I did a lot of their work too and even for teachers," she said. Although, Sheela's father never really understood art and wanted her to take up a 'safe' job but the headstrong artist insisted and created a life of her own. Nature and women interest Sheela. She likes to paint leaves, trees, birds – things that enjoy freedom in the strained/shackled world. Born and brought up in Uttar Pradesh's Gorakhpur, Sharma didn't know much about the condition of women in India. After her exposure to metropolitan cities, Sheela has now developed a wider knowledge about her surroundings. "Whatever the current scenario is, it's not a happy picture.
The government should do something about it," she said. The artist has been trying to make her mark in little ways. Talking about the field of art and competitiveness, she says she has a long way to go. "I am taking tiny steps and there is so much to do still," she said. Sheela is an independent artist but is inspired by the likes of MF Husain and Amrita Shergill. "I make sure that I attend shows if there are any," she quickly makes a point.
When asked what she would like to do about physically challenged children, she said: "I am open to teach or guide whoever is interested in art. But at the same time, I am not planning to start an NGO or something. It is good to show a path to kids who are keen and I would love to do that". Sharma has, in fact, taught a lot of children to paint and sketch. But are there any hurdles for such special children? None feels the artist. "Nothing is impossible. If one is willing one can achieve it all. For me, the brain is the most important part in the body and if that is fine and working then there is no stopping. Even if a person decides to beg that is totally his/her call but nobody is incapable of doing anything," she said.
Sharma recently held an exhibition of her works in Mumbai at the Kala Ghoda Art Entrance where she showcased a series on Buddha. She has also been exhibiting in Delhi, Bangalore, and Lucknow.